30 novembre 2009
Voici mon calendrier de l'avent terminé (celui que j'avais acheté au salon bordelais). Je suis assez déçue:
Acabé mi calendario del avent (el que había comprado en el salón bordelés). Soy bastante decepcionada:
Here is my Advent calendar finished (the one that I bought at Bordeaux handicraft fair). I am rather disappointed: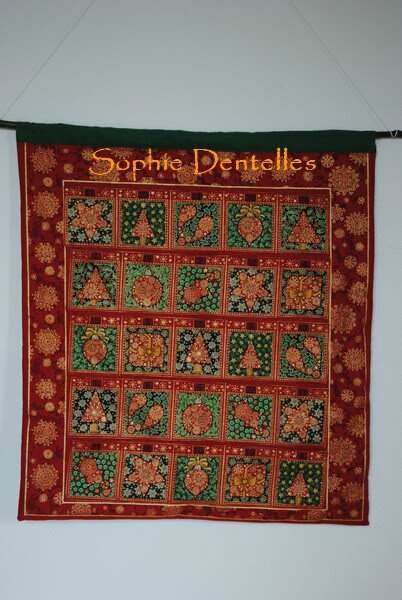 Les poches sont bancales. Les motifs ne sont pas imprimés droit fil. Comme j'ai coupé et cousu en suivant le dessin, les poches sont penchées. Si j'avais coupé droit fil, on verrait le fond du tissu.

Los bolsillos son de través. Los dibujos no son estampados con el sentido del hilo. Así como corté y cosí siguiendo el dibujo, los bolsillos son inclinados. Si hubiera cortado con el sentido del hilo, veríamos el fondo del tejido.

Pockets are rickety. The motives are not printed straight grain. As I cut and sewed by following the drawing, pockets are tilted. If I had cut straight grain, we would see the bottom of the fabric.

On voit les traits qui servent de repère au montage.

Vemos los trazos que sirven de indicación al montaje.

We see the mark lines for the sewing.

Une bizarrerie pour un calendrier de l'avent, personne ne remarque? Non? De plus près? Il y a une poche numéro 25! (au milieu)

Una rareza para un calendario del adviento, ¿nadie observa? ¿ No? ¿ De más cerca? ¡Hay un bolsillo número 25! (En medio)

An oddity for an Advent calendar, do you notice? No? Closer? There is a pocket number 25! (In the middle)
29 novembre 2009
Voici le Sal mystère fini! Joli pochon. Avec l'ourlet à jours d'un ancien traversin (transformé en oreiller), j'ai ajouté un croquet, et je n'ai pas mis le bouton (dans le fond du sac).
¡Acabé el Sal misterio! Es una bolsa tan hermosa. Con el dobladillo bordado de un antiguo travesaño (transformado en almohada), añadí un croquet, y no puse el botón (en el fondo de la bolsa).
Here is the mystery Sal finished! What an attractive bag. With the hem from an antique bolster (transformed into pillow), I added a croquet, and I did not put the button (in the bottom of the bag).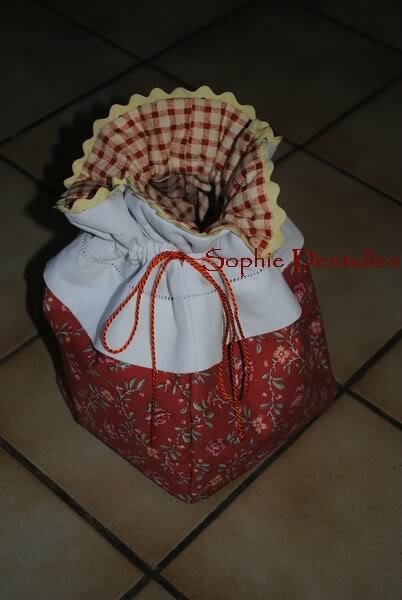 28 novembre 2009
Je tricote bancale. Une aiguille 6 et une grosse aiguille sans numéro, je ne sais pas combien.
Hago punto cojo. Una aguja 6 y una aguja gorda sin número, no sé cuánto.
My kniting is rickety. A needle 6 and a big needle without number, I do not know how much.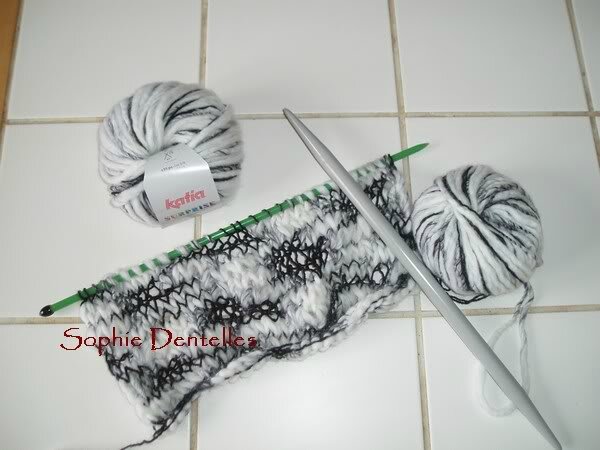 Pour une écharpe à la mode, avec des grosses mailles qui font des trous. Mais alors pourquoi ne pas prendre deux grosses aiguilles? C'est qu'un rang serré permet de bloquer les mailles trop lâches de l'autre rang. Laine Surprise de Katia, simple jersey endroit, avec une laine fantaisie pas la peine de faire des effets de points, ça ne se voit pas.
Para una bufanda de moda, con mallas gruesas que hacen hoyos. ¿Entonces porqué no tomar dos agujas gruesas? Porque una vuelta apretada permite bloquear las mallas demasiado cobardes de la otra vuelta. Lana Surprise de Katia, punto simple, con una lana fantasía no vale la pena hacer alarde de puntos, no se ve.
For a fashionable scarf, with big stitches which make holes. Then why not taking two big needles? Actually, a tight row allows to block the too cowardly stitches of the other row. Wool Surprise from Katia, simple stocking stitch, with that kind of wool ne need to make effects with different points, we would not see them.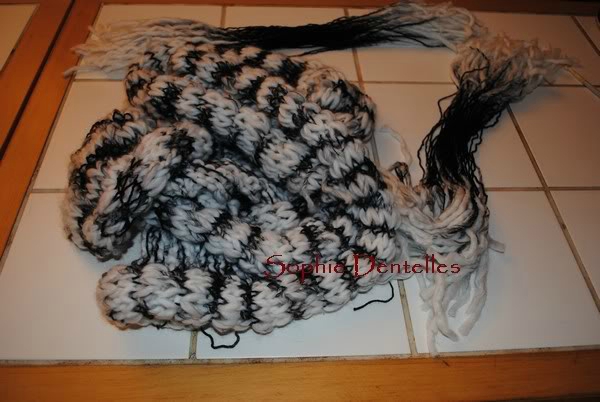 Puis découpe des franges en jouant sur la couleur.
Despues cortamos flecos jugando sobre el color.
Then we cut the fringes by playing on the color.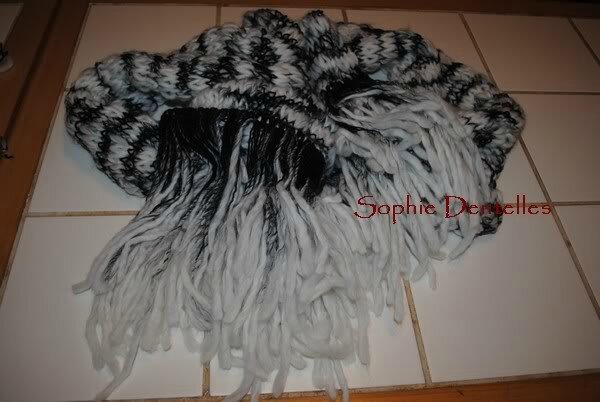 27 novembre 2009
Je n'ai pas acheté grand-chose au salon, juste une paire de ciseaux qui me faisaient envie depuis longtemps, les petits monstres de Sajou, et quelques rubans fantaisie.
No compré muchas cosas en la muestra, solamente unas tijeras, hace tiempo que quiciera comprarlas, los pequeños monstruos de Sajou, y algunas cintas de fantasía.
I did not buy many things at the fair, just a pair of scissors that I have been longing to buy for months, Sajou's small monsters, and some fancy ribbons.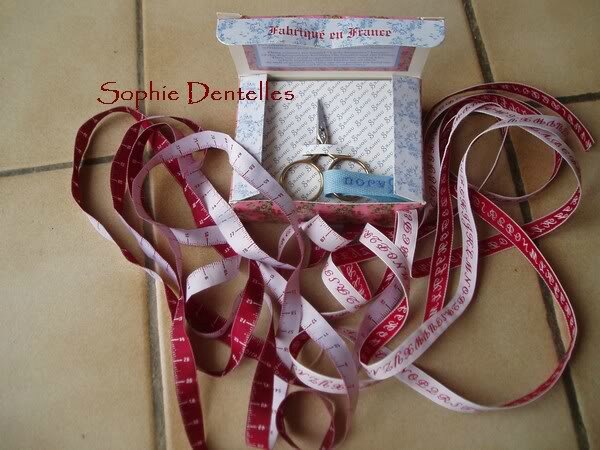 Mais pas besoin d'avoir acheté beaucoup pour avoir un très joli sac! Je lui trouverai certainement une utilisation pour les ouvrages.
¡Pero se necesitaba comprar mucho para tener una bolsa muy hermosa! Seguro que le utilizaré para mis manualidades.
But not need to buy a lot to have a very attractive bag! I shall usa it somehow for my handicraftm storage.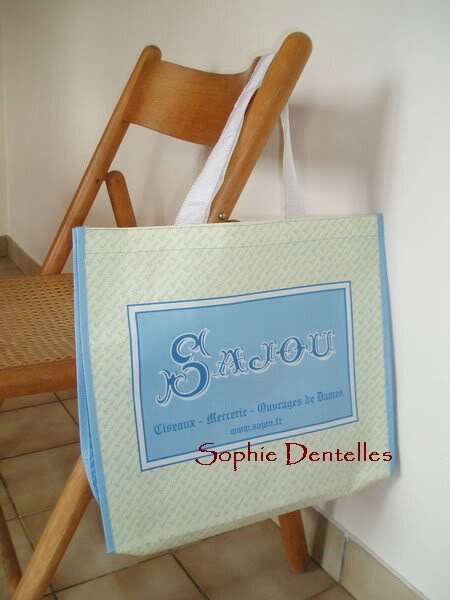 Et puis plein de bonnes adresses pour pouvoir dépenser des sous plus tard...
Y también muchas buenas direcciones para poder gastar mi dinero más tarde...
And then many good addresses in order to spend money later...
25 novembre 2009
Autre salon, une référence, Marie-Claire Idées renoue avec Créations et Savoir-Faire, pour notre plus grand bonheur car nous n'avons plus à choisir entre l'un ou l'autre (les deux non, faut pas pousser, déjà que sur le principe on paye pour dépenser des sous...).
Otra muestra, una referencia, "Marie-Claire Idées" reanuda con "Créations et Savoir-Faire", para nuestra felicidad, ahora que no tenemos que escoger más entre la una o la otra (los dos no, no vale, ya que tenemos que pagar la entrada para gastar dinero...).
Other handicraft fair, a reference, "Marie-Claire Idées" takes up with "Créations et Savoir-Faire", for our biggest happiness as we do not have to choose any more between the one or the other (not both, would be too much, we already have to pay before spending money).
Un côté expositions très soigné, avec tout plein de mains différentes (ça doit rappeler quelque chose aux dentellières françaises!)
Un lado exposiciones muy esmerado, con tantas manos diferentes (¡esto debe recordarles algo a las encajeras francesas!)
An exhibition corner very well-kept, with many different hands (that may remind something to the French lacemakers!)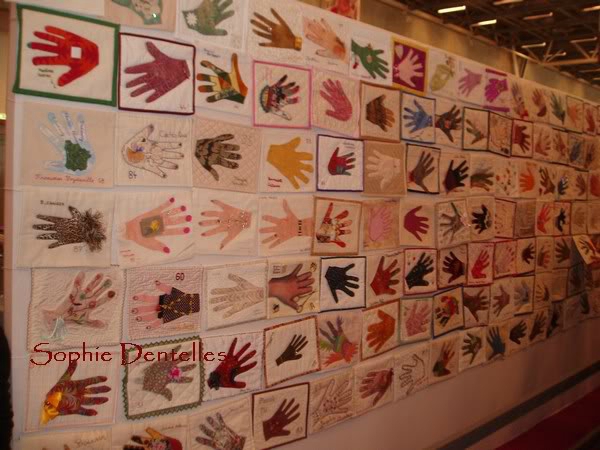 Une mercerie à l'ancienne, arrangée par Sajou, leur stand de vente aussi était de toute beauté.
Una mercería como antes, arreglada por Sajou, su estand de venta también era muy bonito.
An antique-like haberdashery, settled by Sajou, their sale stand also was beautiful.
Un coin soin du linge ancien.
Un rincón cuidado de la ropa blanca antigua.
A corner care of the antique linen.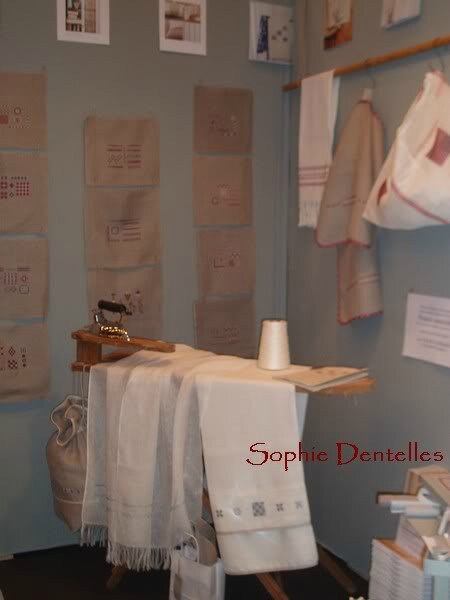 Jolis cadres mélangeant plusieurs techniques: transfert textile et courtepointe.
Hermosos cuadros que mezclan varias técnicas: transferencia textil y patchwork (si alguien conoce la palabra en castellano, pro favor me la dice).
Attractive frames mixing several techniques: textile transfer and patchwork.
Et puis l'occasion de passer dire bonjour à Marie Suarez sur son stand, et de rencontrer Muriel.
Y también la ocasión de pasar saludar a Marie Suarez en su estand, y de encontrar a Muriel.
And then the opportunity to say hello to Marie Suarez on her sale stand, and to meet Muriel.
22 novembre 2009
J'ai cousu les bandes de tissu comme indiqué, et j'ai même profité du salon de Bordeaux pour acheter un cordon assorti à mes tissus. Le bouton vient de mon stock.
Cosí las tiras de tejido como en las instrucciones, y aproveché del salón de Bordeaux para comprar un cordón combinado con mis tejidos. El botón viene de mis existencias.
I sewed the strips of fabric as indicated, and I even took advantage of the fair in Bordeaux to buy a string matched with my fabrics. The button comes from my stock.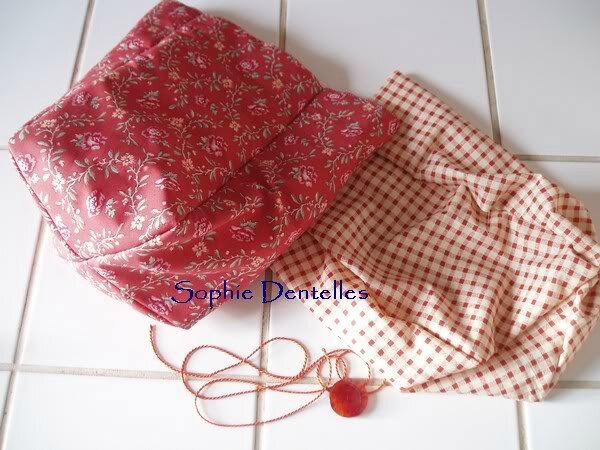 18 novembre 2009
Ai-je trouvé ce que je cherchais? Et bien non, je n'ai pas tout trouvé. Il me manque du tissu genre laine bouillie pour faire la cape du numéro de novembre de Fait Main; il me manque du tissu pour faire une robe pour Pauline, toujours dans le même magazine.
¿Encontré lo que buscaba? Pues no, no encontré todo. Me falta tejido de lana hervida para hacer la capa del número de noviembre de 'Fait Main'; me falta tejido para hacer un vestido para Pauline, siempre en la misma revista.
Did I find what I was looking for? Well no, I did not find everything. I miss a woolen fabric, to make a cloak as in Fait Main magazine, November issue; I miss a fabric to make a dress for Pauline.

Alors, ai-je été raisonnable au moins? Même pas, puisque j'ai acheté des choses qui n'étaient pas sur ma liste... Une bobine en bois, à la mode sur les blogs en ce moment, je ne sais pas encore comment je vais l'habiller. Et puis un calendrier de l'avent, je n'en ai pas. Je sais, il en faudrait trois. Il y avait justement trois modèles mais les deux autres ne me plaisaient pas. Celui-là n'est pas idéal non plus, il ne laisse pas beaucoup de place à la créativité puisque tout est presque fait, mais tant pis.
¿Entonces, fui razonable por lo menos? Ni siquiera, ya que compré cosas que no estaban sobre mi lista... Una bobina de madera, de moda sobre los blogs ahora, todavía no sé cómo voy a vestirlo. Y tambien un calendario del adviento, que no tenía ninguno. Ya lo sé, necesito tres. Había justamente tres modelos pero los dos otros no me gustaban. Ése no es ideal tampoco, no me deja mucha creatividad ya que todo es casi hecho, pero vale.
Then, was I reasonable at least? Not even, because I bought things which were not on my list... A wooden reel, it is the fashion on blogs at the moment, I do not know how I am going to dress it yet. And an advent calendar, I did not have any. I know, I need three. What a coincidence, there were three different models but I did not like the two others. That one is not ideal either, it does not leave many place for my creativity as everything is almost made, but I bought it anyway.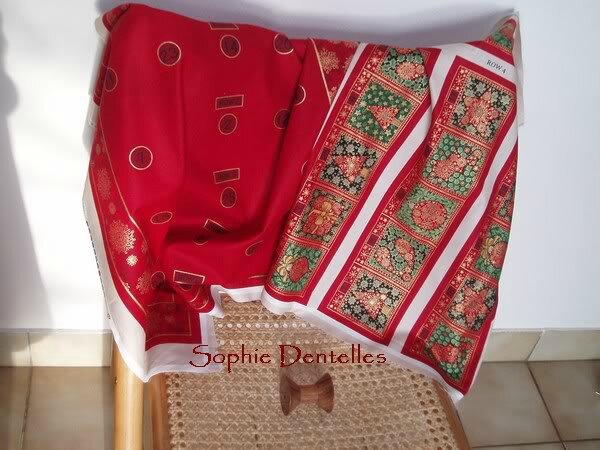 16 novembre 2009
Comme prévu, visite au salon hier, accompagnée de Marion, je n'ai pas beaucoup dépensé pour moi-même, surtout pour elle. De jolies vitrines arrangées sur le thème du cœur. Je n'ai pas pris de photos des stands, par respect.
Como previsto, visita en el salón ayer, acompañada por Marion, yo mismo no gasté mucho, sobre todo ella. Hermosas vitrinas arregladas con tema del corazón. No hice fotos de los estandes, por respeto.
As planed, visit to the fair yesterday, with Marion, I did not spend much on myself, a lot on her. Attractive showcases arranged on the topic of the heart. I did not take photos of stands, by respect.
15 novembre 2009
Je suis le Sal couture chez 'Un petit bout de fil'. Je ne sais pas ce que sera, mais tout est tellement joli sur le blog que j'ai confiance. Voici mon étape de la semaine avec les instructions de la semaine dernière.
Estoy haciendo el Sal de costura del blog 'Un petit bout de fil (Un pequeño trozo de hilo)'. No sé lo que será, sino todo es tan hermoso sobre el blog como tengo confianza. Aquí es mi trabajo de la semana con las instrucciones de la semana pasada
I am doing the sewing Sal on 'Un petit bout de fil (A small piece of thread)' blog. I do not know what will be yet, but everything is so attractive on the blog that I trust it. Here is my work of the week with the instructions of last week.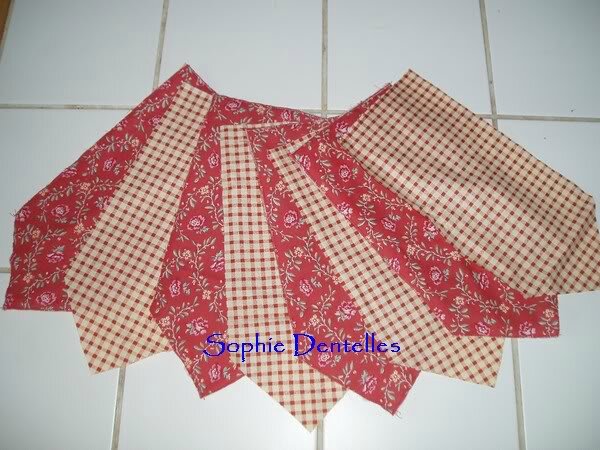 12 novembre 2009
Puisque je suis à Blaye, je vais donc aller au salon Passions Créatives de Bordeaux. Ça commence aujourd'hui, je ne sais pas encore quel jour je pourrai y aller, mais j'ai déjà préparé une liste de projets pour lesquels j'ai besoin de certaines fournitures. Si c'est pas de l'organisation ça!
Ya que estoy en Blaye, iré al salón "Passions Créatives" de Bordeaux. Hoy es el primer día, no sé todavía cual día podré ir allá, sino ya preparé una lista de proyectos para los cuales necesito ciertas cosas. ¡Dígame que no estoy organizada!
As I now live in Blaye, I am going to the "Passions Créative" handicraft fair in Bordeaux. That starts today, I do not know which day I can go there yet, but I have already prepared a list of projects for which I need certain items. See how organised I am!