10 septembre 2012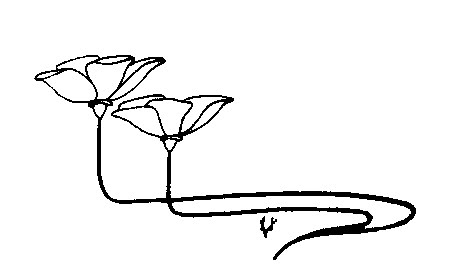 Les dentelles de Flandre avec Kumiko Nagasaki.
Encajes de Flandres de Kumiko Nagasaki.
Flanders lace from Kumiko Nagasaki.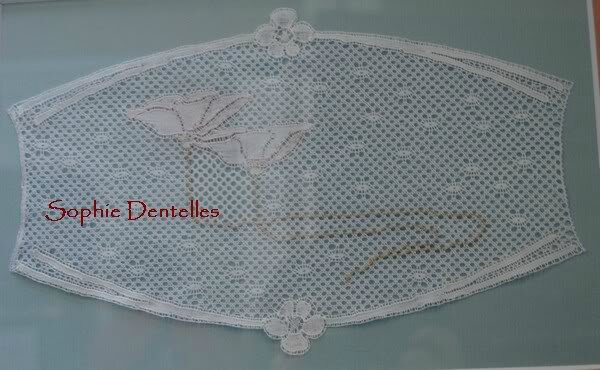 Yolande Beeckmann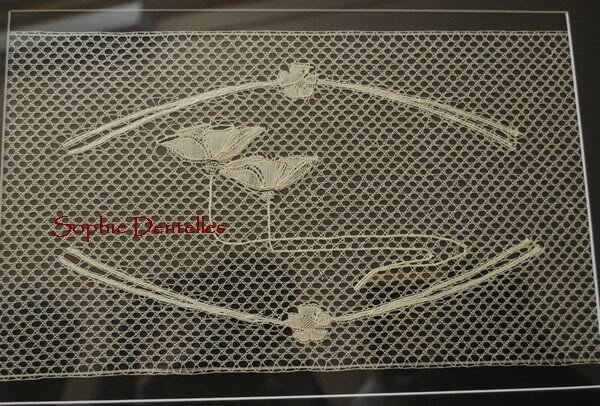 Barbara Corbet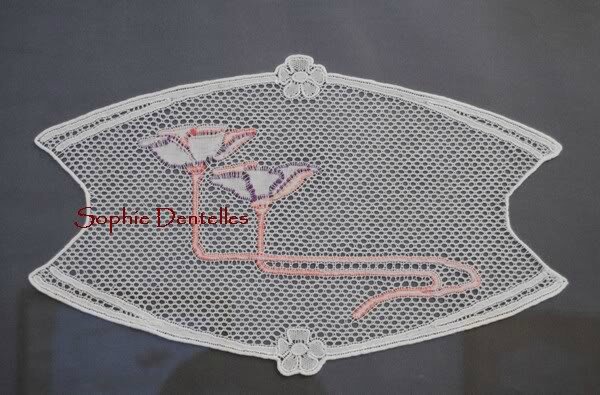 09 septembre 2012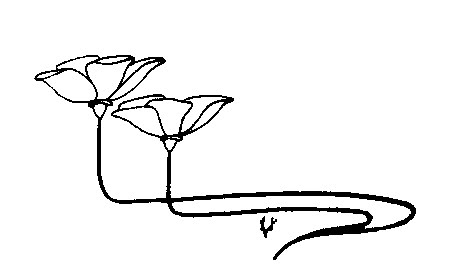 Une série de dentelles à lacet. Du Milan avec Louise Colgan.
Encajes de cintas. De Milán de Louise Colgan.
Some tape laces. Milanese from Louise Colgan.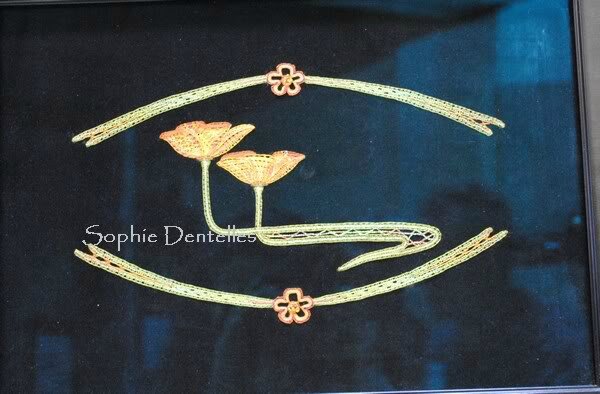 Dentelle de Cantú par Betty Manfré.
Encaje de Cantú de Betty Manfré.
Cantú lace from Betty Manfré.
Dentelle russe par Maria Baranova, qui expliquait qu'elle avait eu du mal à travailler sur ce dessin imposé.
Encaje de Rusia de Maria Baranova. Tenía problemas haver encaje con este tipo de dibujo.
Rusian lace from Maria Baranova. She found it difficult to make rusian lace with this unusual drawing for rusian.
Dentelle d'Idrija par Maja Svetlik et Stana Frelih.
Encaje de Idrija de Maja Svetlik y Stana Frelih.
Idrija lace from Maja Svetlik and Stana Frelih.
Dentelle art nouveau d'Autriche par Leopoldine Winkler.
Encaje de Austria de Leopoldine Winkler.
Austrian lace from Leopoldine Winkler.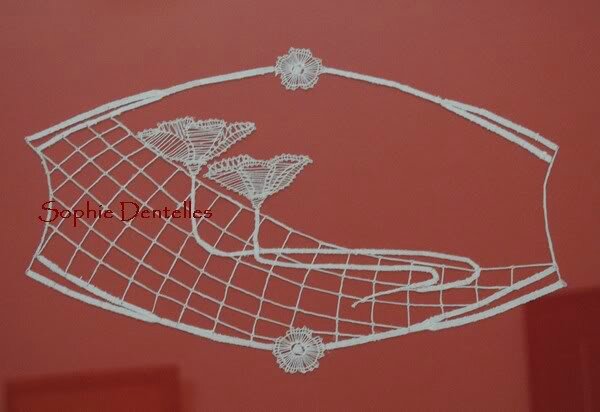 08 septembre 2012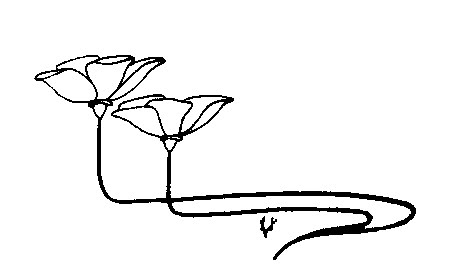 La grande famille des dentelles à fils coupés, la Duchesse de Ghislaine Eemans-Moors.
Encaje Duquesa de Ghislaine Eemans-Moors.
Duchess lace from Ghislaine Eemans-Moors.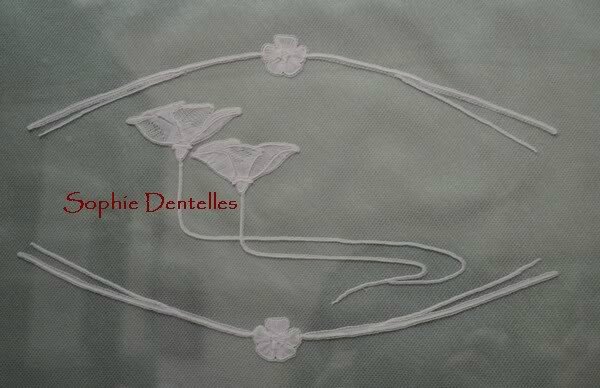 Whitof de Susie Johnson.
Honiton de Marieke Bellinga.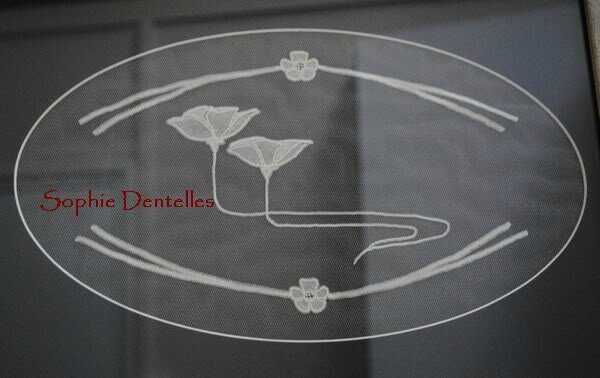 Lutac de Anny Noben-Slegers.
Un mélange de Honiton, Withof et Milan par Sandi Woods.
Honiton, Whitof y de Milan mezclados por Sandi Woods.
A mix of Honiton, Whitof and Milanese from Sandi Woods.
07 septembre 2012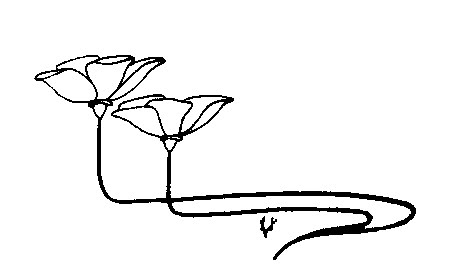 Quoi de mieux pour continuer que les dentelles à fond clair.
Sigamos con los encajes de punto de Tul.
We carry on with point ground laces.
La Chantilly, avec Ulrike Voelker auteur du dessin et Gudrun Vogt.
La Chantilly, con Ulrike Voelker que hizó el diseño y Gudrun Vogt.
La Chantilly, with Ulrike Voelker who made the drawing and Gudrun Vogt.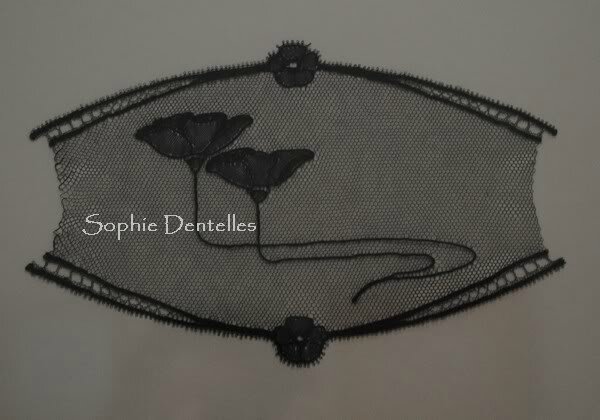 Avec le même carton une autre interprétation de Chantilly avec Marion Rich.
Con el mismo patrón otra Chantilly de Marion Rich.
Another lace from the same pricking from Marion Rich.
En blanc, du Bucks avec Susie Johnson.
En blanco, encaje de Bucks de Susie Johnson.
White Bucks point lace from Susie Johnson.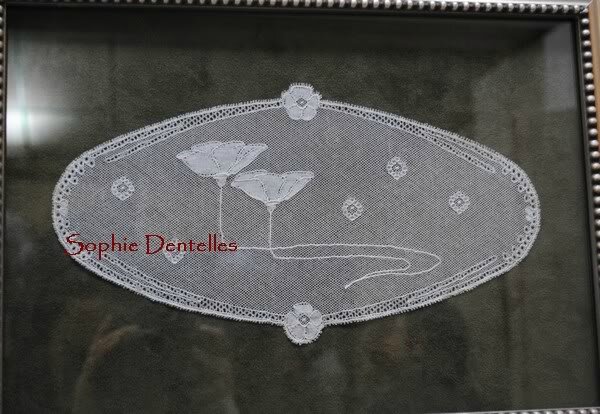 De la blonde avec Pompi Parry.
Blonda de Pompi Parry.
Blonde lace from Pompi Parry.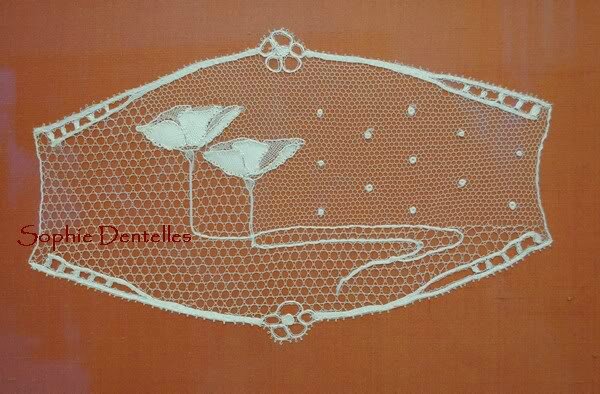 Passons à la couleur, trois polychromes de Courseulles en premier Ulrike Voelcker.
Colores, tres policromas de Courseulles la primera de Ulrike Voelcker.
Color now, three Courseulles polychromes, first from Ulrike Voelcker.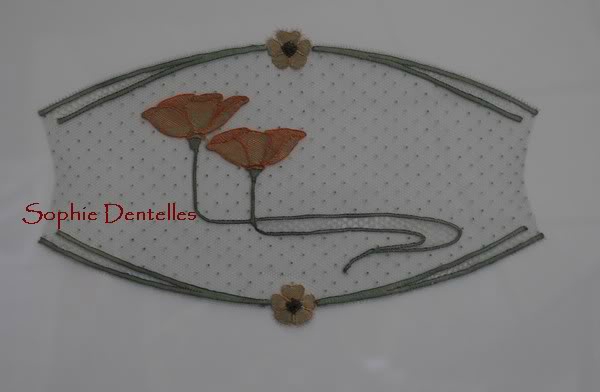 Pompi Parry
Claudette Bouvot et Chantal Hervieux
Retour au blanc, dentelle de Beveren de Helena Fransens.
Blanco otra vez, encaje de Beveren de Helena Fransens.
Back to white, Beveren lace from Helena Fransens.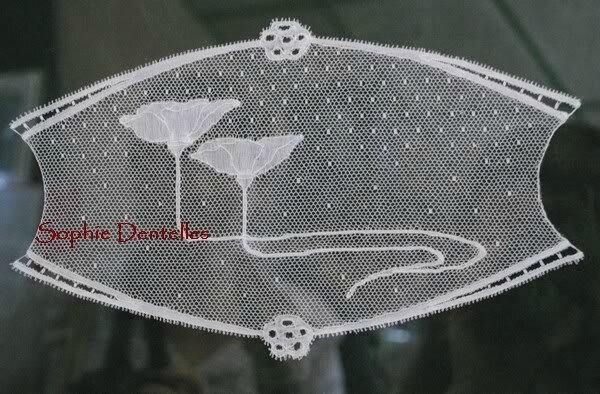 Tønder de Bobbi Donnelly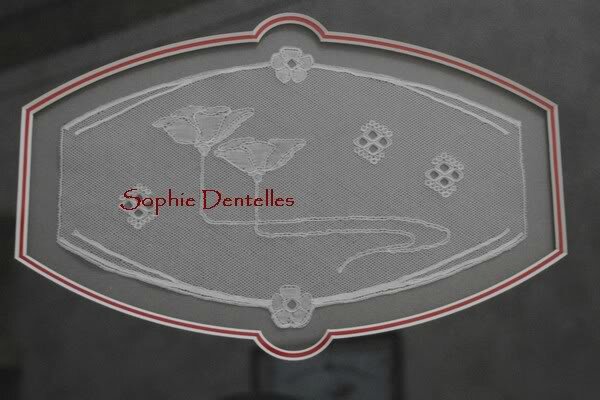 et enfin Lille avec Erdmute Wesenberg.
Encaje de Lille de Erdmute Wesenberg.
Lille from Erdmute Wesenberg.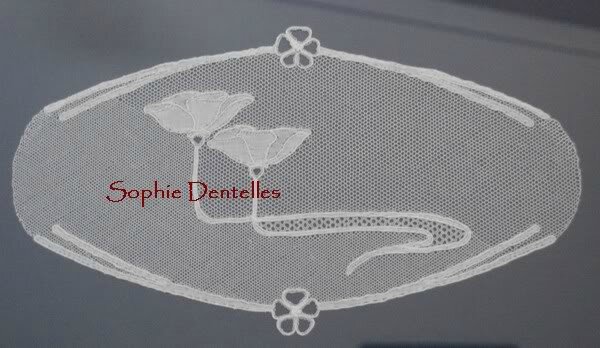 06 septembre 2012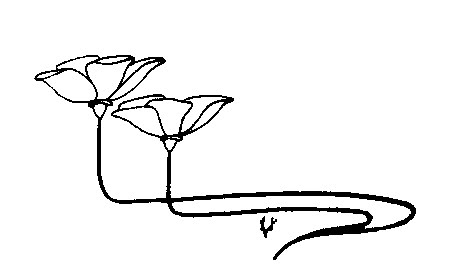 Le projet coquelicot est né de l'idée de réaliser des dentelles de techniques très différentes à partir d'un même dessin. L'exposition rassemblait 44 dentelles différentes, que j'ai classées par familles de techniques similaires. Les panneaux formaient un véritable labyrinthe, avec peu de recul et beaucoup de reflets, ce n'était pas facile de prendre les photos.
El proyecto de amapolas nació de la idea de realizar encajes de técnicas muy diferentes a partir del mismo dibujo. La exposición reunía 44 encajes diferentes, que clasifiqué por familias de técnicas similares. Los tableros formaban un verdadero laberinto, con poca distancia y muchos reflejos, entonces no era fácil hacer las fotos.
The poppy project arose from the idea of making laces of very different techniques from the same drawing. The exhibition showed 44 different laces, that I sorted by families of similar techniques. The panels made a real maze, without enough space and with many reflections, so it was not easy to take photos.
Pour une fois, on commence par la dentelle à l'aiguille avec le point de gaze par Catherine Barley.
Empezamos con el encaje de aguja y el point de gaze de Catherine Barley.
For once, let's start with needle lace and point de gaze by Catherine Barley.
Dentelle à l'aiguille d'Ursula Bohatsch.
Encaje de aguja de Ursula Bohatsch.
Neddle lace by Ursula Bohatsch.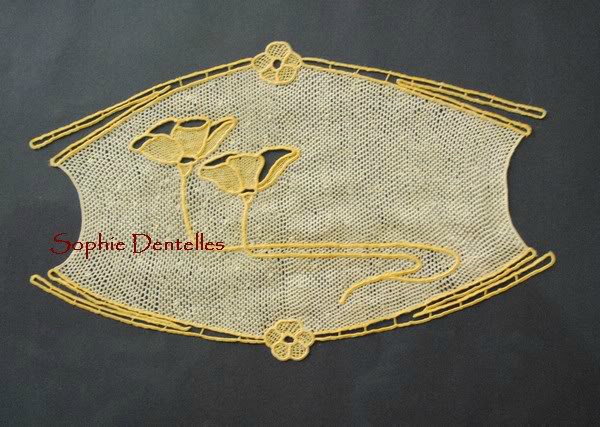 Dentelle à l'aiguille de Yolande Beeckmann.
Encaje de aguja de Yolande Beeckmann.
Neddle lace by Yolande Beeckmann.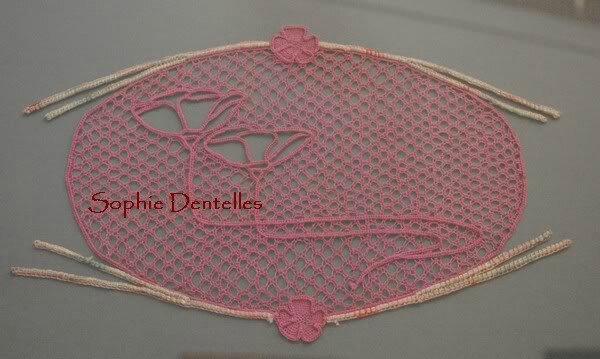 05 septembre 2012
Après ce tour du monde en dentelle, je reviens à l'épisode des bols.
J'ai bien aimé participer à ce projet commun. Tous les jours je suis allée voir les réalisations des unes et des autres, j'y ai vu plein de créativité, plein d'interprétations différentes, plein de jolies choses. J'ai essayé de laisser un commentaire à chaque participante. Je dis bien essayé, car sur certains blogs les commentaires sont bloqués, ce qui est dommage. Parfois il faut avoir un compte sur le même site pour pouvoir commenter, parfois on peut commenter mais sans lien vers son propre blog.
J'ai aussi découvert d'autres jolis blogs que j'ai mis dans mes favoris. Et puis j'ai attiré un lectorat anglophone. Depuis que je mets ma propre traduction (moi seule sais ce que je veux dire!) j'ai beaucoup de lecteurs hispanophones et très peu d'anglophones, je ne savais pas pourquoi. Je pense que c'est lié à la dentelle: il y a beaucoup plus de dentellières dans les pays hispanophones et beaucoup plus que quilteuses dans les pays anglophones.
Donc, après en avoir fait le tour, je vous propose d'aller aussi voir tous les bols différents réalisés pendant ce mois. En conclusion, je m'estime chanceuse d'avoir été programmée le premier jour, sinon je crois que mon projet aurait été trop influencé par ceux des autres, et aurait sûrement varié du tout au tout chaque jour.
Pour finir, tous les remerciements aux organisatrices: Madame Samm, Carol, et Regina qui a offert le modèle aux participantes.
Demain nous retournons au congrès de dentelle, ce n'est pas fini!
Después de esta vuelta al mundo en encaje, volvemos a los tazones.
Me gustó participar en este proyecto común. Cada día fui a ver las realizaciones de las unas y otras, vi mucha creatividad, muchas interpretaciones diferentes, muchas hermosas cosas. Traté de dejarle un comentario a cada participante.
Pues, después de mi vuelta, también podéis ver todos los diferentes tazones echos durante este mes. Además, tengo suerte ser programada el primer día, si no creo habría sido demasiado influida por los otros, y seguramente habría cambiado todo cada día.
Por fín, todos los agradecimientos a las organizadoras: Madame Samm, Carol, y Regina que os regaló el patrón a nosotras participantes.
Mañana volvemos al congreso de encaje, ¡todavia no se acabé!
After this lace world tour, let's go back to the episode of bowls.
I enjoyed participating in this blog hop. Every day I went to see the others projetcs, I saw many creativity, many different creations, many attractive things there. I tried to leave a comment to every participant. I said I tried, as comments are blocked on certain blogs, unfortunately. Sometimes I needed an account on the same site in order to comment, sometimes I could comment but without link towards my own blog.
I discovered many nice blogs that I added to my favorites. I also had many English-speaking readers. Since I put my own translation (I am the only one whos knows what I mean!) I have many Spanish-speaking readers and very few English-speaking readers, I did not know why. I think it is linked to lace: I finally found lots of lacemakers in Spanish-speaking countries and lots of patchwork makers in English-speaking countrie.
Well, after I made my own visit, I suggest that you go and see all the different bowls made last month. I think I was fortunate as I have been scheduled on the first day, otherwise I believe that my project would have been too much influenced by all the others, and would certainly have varied completely every day.
To finish, many thanks to the organizers: Madame Samm, Carol, and Regina who offered the pattern to the participants.
Tomorrow I will be back to the lace congress report, that isn't finished yet!
13 août
Jody Walker
Cathy
Frances
Anneke
Sophie (c'est moi!)
Majorie's Busy Corner
A Passion For Applique
Fabric-ating
The House On The Side Of The Hill
Just Let Me Quilt
14 août
Jen Duncan
Sharon D.
Apron Valley Road
Quilts and Quilt Things
Pieceful Life
North Hills Quilter
Vroomans Quilts
Somewhat Fanciful
Jane's Quilting
15 août
Binks
Robin S.
Trish
Quilting Along Life's Way
Sew Me Something Good
Quilt Doodle Doodles
Happier Than A Bird Quilts
Dizzy Daze
Bee Tree Designs
Daisy Days
A Quilting Sheep
16 août
Quilt-N-Queen
Crazy 'bout Quilts
Rita, Crooked Quilter
Geema's Wonderings
UFOs and UBIs
Piece Peace
I Piece 2-Mary
17 août
Beate from Gabrielles Atelier
Sharon-Quilt Sheddy
Lilypad Quilting
Searching Out Simple
Scrapbook Chick A Doodle
Polka Dot Classic
PRSD4Tim2
Little Mushroom Cap
I Have A Notion
18 août
Ann E.
Jenny
Stekje
Yarn-or-Fabric
Englating
Knotted-Thread
Peanut's Patchwork
Blessings From Our Nest
19 août
Nancy C.
Sally K.
Margaret A.
Norma
Busy As Can Be
Yet He Abideth Faithful
Butjenter Quilterin
Co mne baví....
Bitzstiffchen - Patchlissi`s Patchwelt
20 août
Birgit H.
Vicki B.
Monika G.
Dorothea
Rosa Patch.The Love Of Sewing
Nuclear Knits
Cottage-Quilt
Cattinka
Hill Valley Quilter
Ninis Patchwork
21 août
Betty
Shelley Lee
Sharmond
Doris
Mrs. Pickles Garden
Ninifee's Kleines Cottage
Quilt-Girlie
Cherry Blossoms
Vogelines Patchwork
Heidi's Patchwork
chchris Quilts
22 août
Margaret M.
Monika (mo-pi-de)
Regina M.
Rosemarie W.
Anolisl's Kreative Seite
In Stitches and Seams
Morgaine's 77 Blog
On The Go Quilting
Aus dem Fuchsbau
23 août
Maureen
Silvia L.
Abitato
InGa
Traveling Stitcher
Taschen, Quilts und mehr
Never Enough Stash
From This To That
De Zondagssteek
Guilitta 2000
24 août
Linda B.
Heidrun P.
Linda M.
Claudia
Elizabeth
Margret's Heritage
Lucky Duck Dreams
Francisca
jatajomi´s stoff-nadel-fadenwelt
Cool Crafty Mom
25 août
Rosemary B.
Susan H.
Christel G.
Alice
Suzanne K.
Books, Hooks, Sticks, etc.
Marla's Crafts
Kathy's Quilts
Sunshine Quilting
The Learning Curve Quilts and Such
Glitzy Me
26 août
Angela D.
Quilts and Pieces
Spoilt Dog Quilts
Quiltenvilt
Traveling Quilter
Gabi Koeln
Sew Sew Little Time
27 août
Sonja S.
Barbara G.
Petra B.
Marcy
Elfriede
Pippa's Patch
Patchkatze Blog
Verquilt
Billie Bee's
Mice In The Mix
28 août
Pam R.
Kathy G.
Hildegard C.
Freemotion By The River
Eliswerkstattbericht
Good Earth Quilting
Sparrow In Flight
Madame Samm
04 septembre 2012
Sri Lanka
El Sri Lanka
Sri Lanka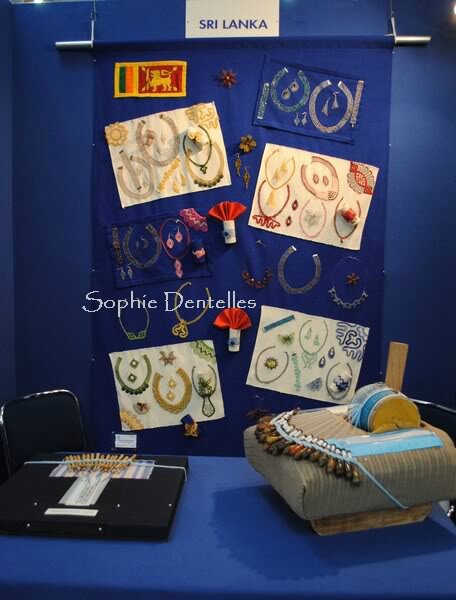 Aussi pour la première fois à un congrès.
Tambien la primera vez en un congreso.
Also for the first time in a congress.
03 septembre 2012
Slovénie
Eslovenia
Slovenia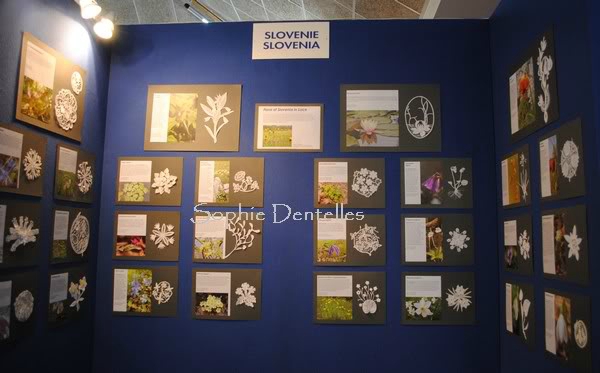 Encore un très joli stand, beaucoup de recherche pour l'interprétation en dentelle de ces fleurs, et une exécution impeccable. Difficile de choisir quelques fleurs seulement. La nivéole d'été:
Otro estand tan lindo, mucha búsqueda para la interpretación con encaje de estas flores, y una ejecución impecable. Difícil de escoger algunas flores solamente. El leucojum aestivum:
Another very attractive stand, a lot of research for the lace interpretation of these flowers, and an good execution. Difficult to choose only a few flowers. The summer snowflake: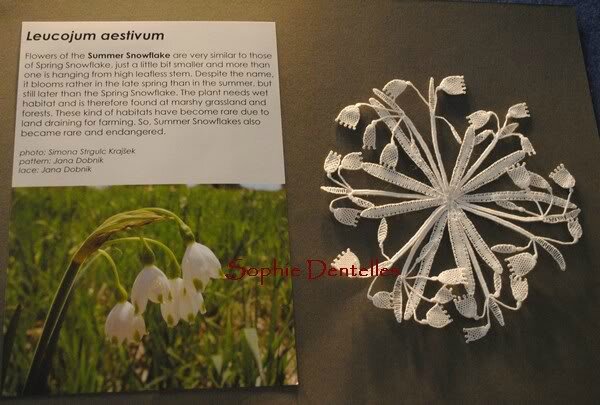 La mâcre nageante:
La castaña de agua:
The water caltrop:
Renoncule thora ou vénéneuse:
La ranunculis thora:
The ranunculus thora: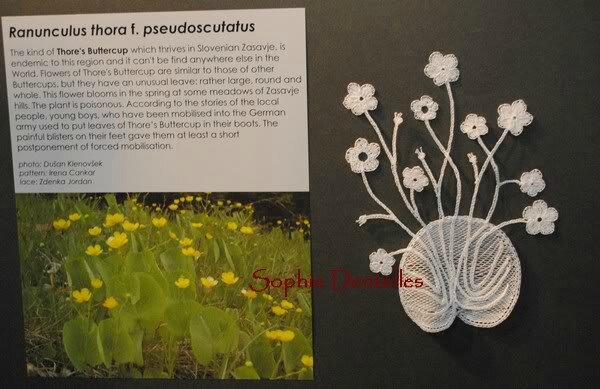 Ce n'est pas étonnant, la Slovénie a gagné le trophée du plus joli stand.
Heureusement qu'il y avait les noms latins, parce qu'il n'y avait pas de traduction en français sur le stand (il va falloir que la Slovénie se mette au français pour le congrès 2016).
Claro, Eslovenia ganó el premio del stand más hermoso.
Felizmente había los nombres latinos, porque no había traducción en francés en el stand (Eslovenia tiene que aprender el francés, la otra idioma de OIDFA, antes del congreso 2016).
It is not a surprise, Slovenia won the most attractive stand trophy.
Fortunately they mentioned the latin names, because there was no French translation on the stand (Slovenia needs to learn French, the other OIDFA official language, before 2016 congress).
02 septembre 2012
Russie
Rusia
Russia

Pour la première fois dans un congrès OIDFA.
Para la primera vez en un congreso de OIDFA.
For the first time in an OIDFA congress.
01 septembre 2012
Royaume-Uni
El Reino Unido
The United Kingdom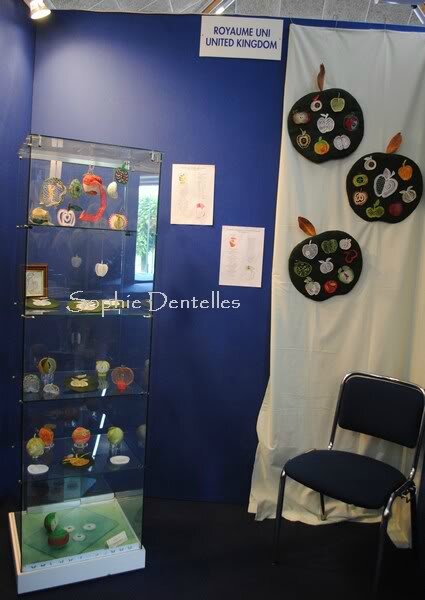 Qui tout comme le Canada avait choisi le thème des pommes pour son stand (on n'est pas en Normandie pour rien!) et en plus les deux stands étaient face à face, le hasard. J'ai bien aimé le trognon.
Que como Canadá eligió el tema de las manzanas para su estand (¡pues, estamos en Normandía, claro!) y además los dos estands estaban a frente uno del otro, el azar. Me gustó bien el troncho.
Which as Canada choose the theme of apples for its stand (we are in Normandy, are we!) and the two stands were even facing each other, but not on prupose. I liked the core.