04 août 2012
Dernier coup de collier avant l'exposition, pour finir le matelassage du couvre-lit destiné à Bénédicte.
Último esfuerzo antes de la exposición, para acabar el acolchado de la colcha de Bénédicte.
Last effort before the exhibition, in order to finish Bénédicte's bedspread quilting.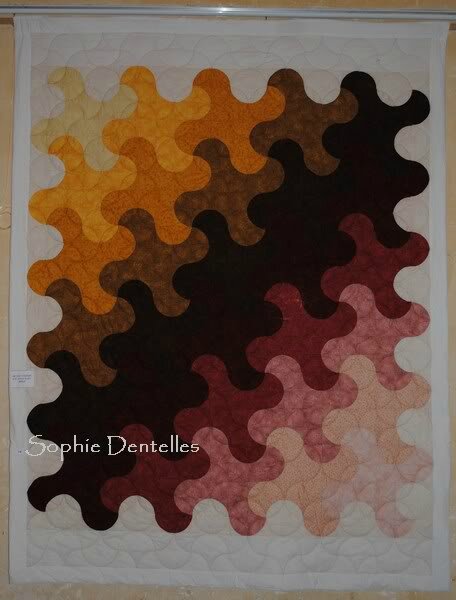 Détail du dos.
El revés.
Backside.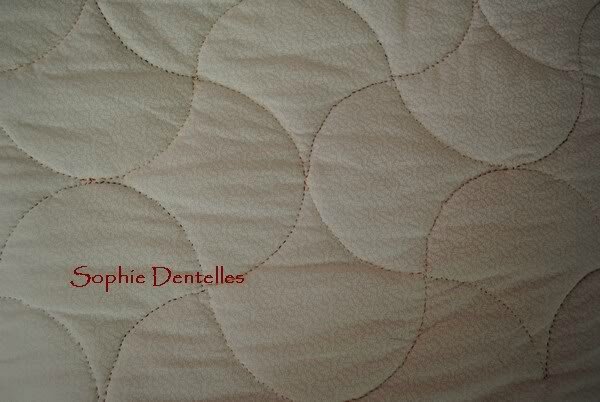 Avec un beau couvre-lit comme, il va falloir que Bénédicte fasse son lit.
03 août 2012
A partir de demain.
A partir de mañana.
Starting tomorrow.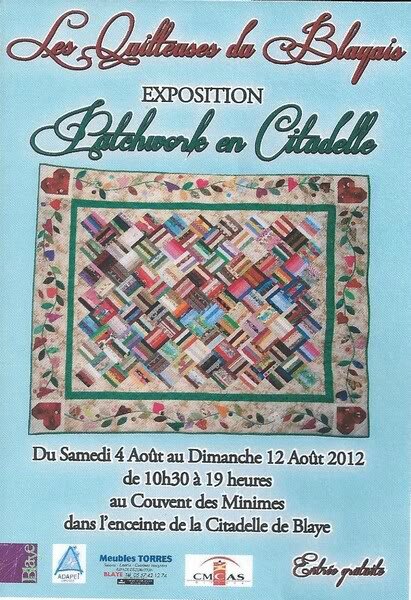 Et c'est pour l'inauguration de l'exposition que je refais ces macarons.
Y es para la inauguración de la exposición que voy a hacer estos macarrones.
And it is for the inauguration of this exhibition that I will bake some more macaroons.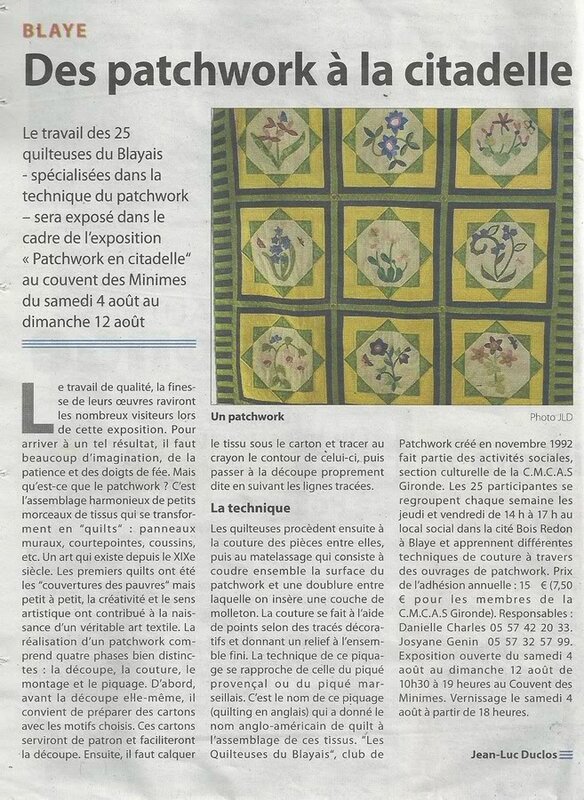 02 août 2012
C'est mon deuxième essai de macarons.
Mi secunda prueba de macarrones.
My second attempt at baking macarroons.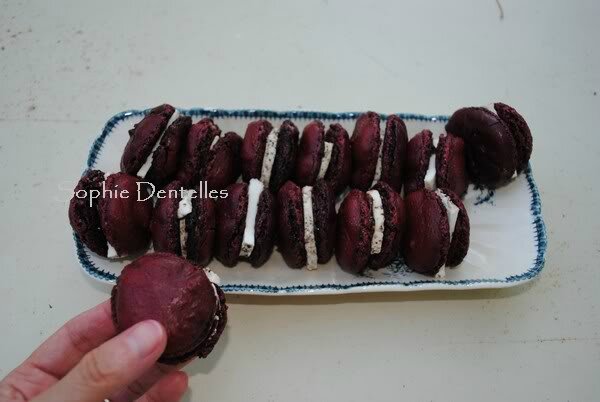 Alors là, j'entends déjà les mauvaises langues qui se disent 'Quoi, le deuxième essai? Elle n'a pas montré le premier, c'est qu'il était raté!' Ben non, le premier n'était pas raté. Ben oui, je n'ai pas trouvé que faire des macarons était si difficile (je suis simplement en retard sur la mode, mais j'assume, j'aime les macarons), il suffit de bien suivre les explications, et surtout les temps d'attente.
Effectivement pour mon premier essai j'ai fait une grossière erreur, j'ai fait des macarons au chocolat un jour où il n'y avait pas d'école. Même pas eu le temps de les mettre deux par deux avec la ganache au milieu, les macarons disparaissaient dans les estomacs dès la sortie du four.
Macarons au fromage de chèvre et confiture de figues, comme ils sont bons j'en refais samedi.
Macarones de queso de cabra y la mermelada de higos, me gustan entonces voy a hacer otros sábado (receta en francés).
Goat cheese and fig jam macaroons, as they taste nice I will do some more on Saturday (recipe in French).
01 août 2012
Et le personnnage principal qui se prépare
Y el personnnage principal que se prepara
And the main character which gets ready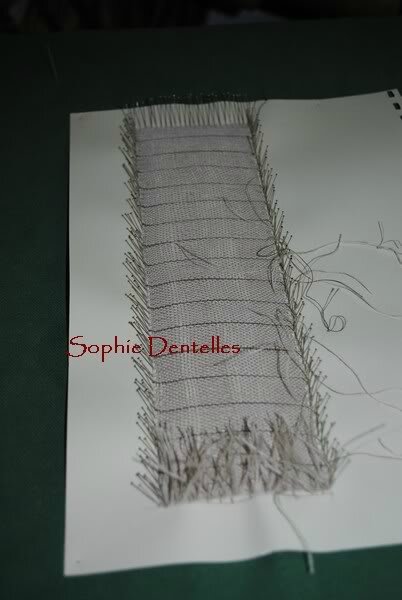 et entre enfin en scène: le pont.
y por fin sale: el puente.
and finally comes on the stage: the bridge.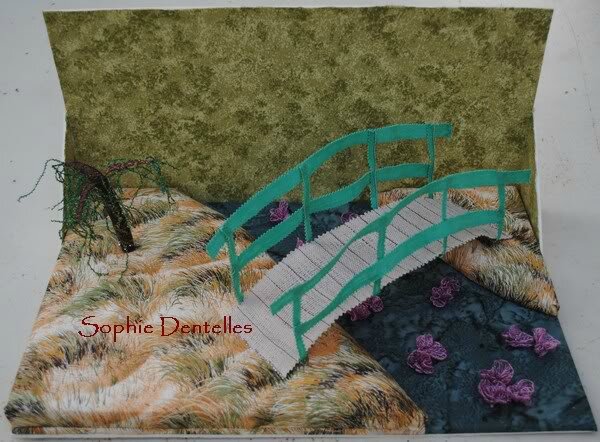 C'est la pièce que j'ai présentée au concours OIDFA sur le thème des ponts.
Es que encajé que envié al concurso OIDFA.
It is my entry to the OIDFA competition OIDFA on the theme of bridges.
Pour des raisons personnelles, je n'ai pas pu y consacrer autant de temps qu'il aurait fallu, et je ne suis pas contente de cette pièce que j'ai quand même envoyée. J'aurais dû refaire le saule pleureur, il n'est pas à l'échelle, et n'est pas assez touffu.
31 juillet 2012
Acte 2, les personnages secondaires de la pièce.
Acto 2, los figurantes de la pieza.
2nd act, the minor characters of the play.
Du violet qui pousse, qui pousse tellement
El morado crece, crece tanto
The purple grows, grows so much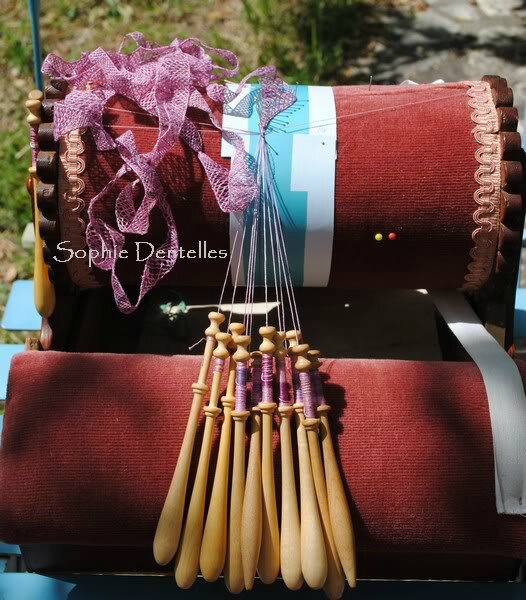 qu'il faut le couper.
que tenía que cortarlo.
that I have to cut it.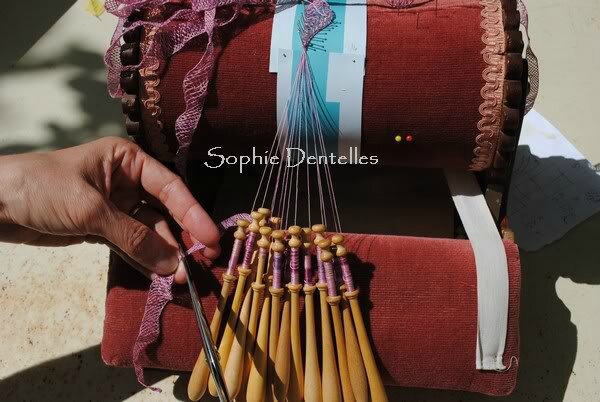 Des branchages qu'il faudra couper aussi.
Ramajes que cortaré también.
Boughs that I will have to cut too.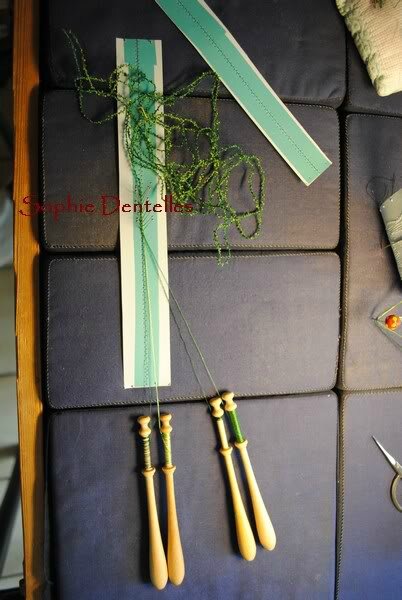 Et voilà les fameux nymphéas et un saule pleureur.
Y tenemos los famosos nenúfares y un sauce llorón.
And here are the famous white water lilies and a weeping willow.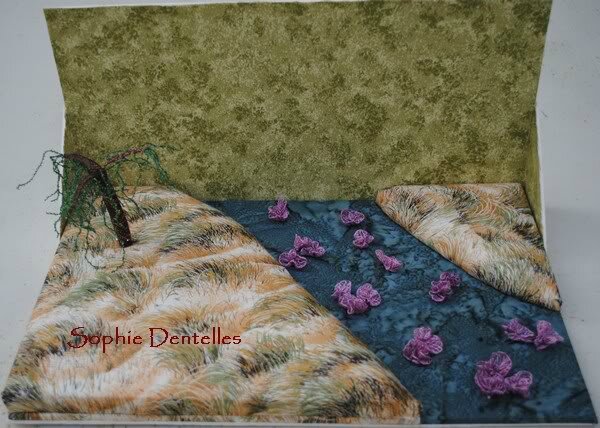 30 juillet 2012
Acte 1, la scène.
Acto 1, la escena.
1st act, the stage.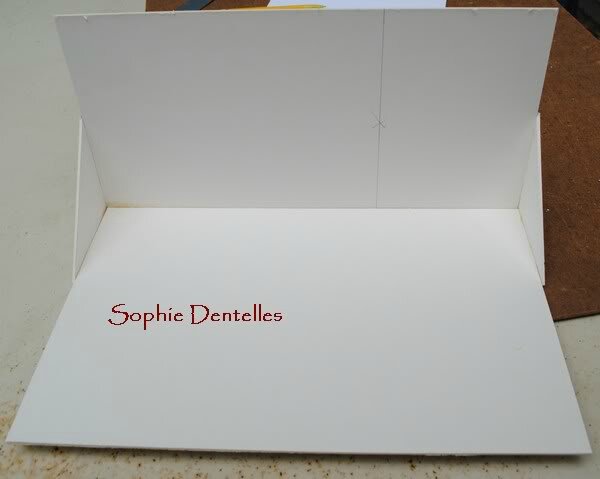 Le relief.
El relievo.
The relief.
Le paysage.
El paisage.
The scenery.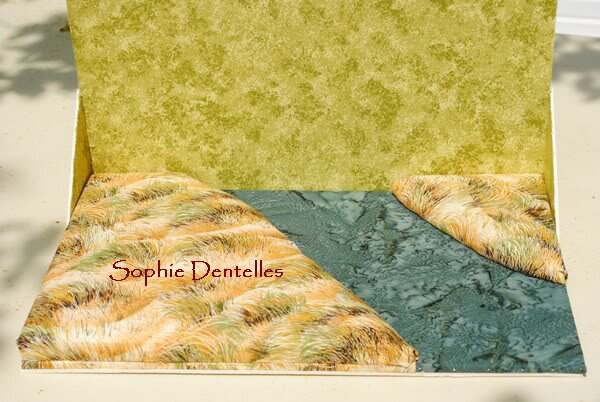 Petit à petit les choses se mettent en place.
Poco a poco las cosas se colocan.
Little by little things set up.
29 juillet 2012
Il était une fois... En fait en août 2011, nous avons visité la maison de Claude Monet à Giverny, et les jardins, magnifiques pendant l'été. J'ai surtout photographié le fameux pont sous tous les angles possibles. Je devrais dire les deux ponts, car il y en a deux, mais j'ai jeté mon dévolu sur le pont tout simple. Heum, pas facile de prendre des photos du pont tout seul en pleine saison touristique... Ceci est le début d'une pièce en plusieurs actes, à suivre donc.
Érace una vez.. Pues en agosto 2011, visitamos la casa de Claude Monet en Giverny, y los jardines, magníficos durante el verano. Tomé fotos del famoso puente y de todos los ángulos posibles. Debería decir los dos puentes, porque hay dos, pero escojé el más simple. No es fácil hacer fotos del puente solo con todos los turistas... Esto es el principio de una historia, entonces a seguir.
Once upon a time... Actually in August, 2011, we visited Claude Monet's house in Giverny, and the gardens, so beautifull during summer time. I especially took pictures of the famous bridge from all angles possible. I should say both bridges, because there are two, but I set my heart on the quite simple bridge. Well, not easy to take pictures of the bridge only during the tourist season... This is the beginning of a story in several chapters, to be continued.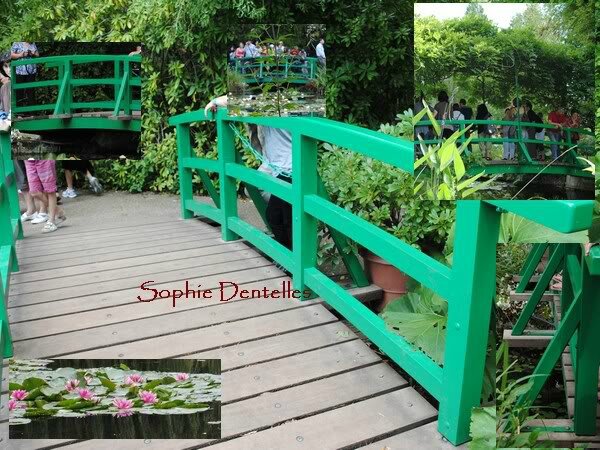 28 juillet 2012
Retour au centre des congrès, pour aller voir des ponts, thème du concours de dentelle, avec une sélection de quelques ponts qui m'ont plu. Bien sûr on ne peut pas tout mettre, il y en avait plus de 70. Je ne peux mettre aucun nom, ils n'étaient pas indiqués.
Volvemos al palacio de congresos, vamos a ver puentes, era el tema del concurso de encaje, con una selección de algunos puentes que me gustaban. Claro que no puedo enseñarlos todos, había más de 70. Tampoco no puedo poner ningún nombre, no fueron indicados.
Let's go back to the congress center, to see bridges, it was theme of the lace competition, with a selection of a few ones I liked. Of course I cannot publish all entries, they were more than 70. I cannot mention any name, they were not indicated.
Pour sa multitude de détails.
Para su multitud de detalles.
For its multitude of details.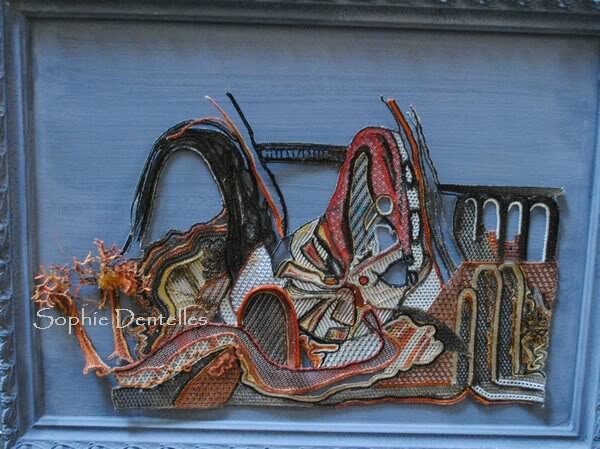 Pour l'idée de paix et d'universalité qui s'en dégage.
Para la idea de paz y de universalidad.
For the idea of peace and universality it gives us.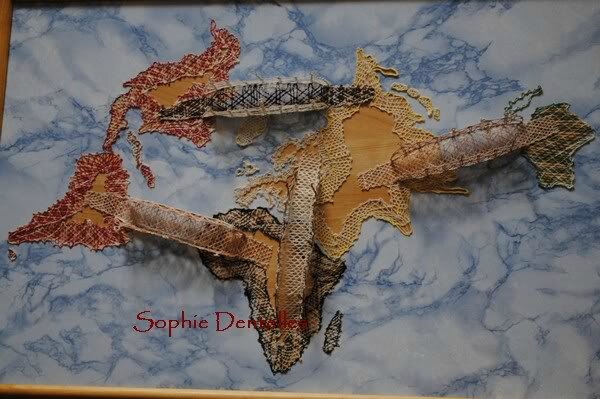 Pour sa bizarrerie.
Para su rareza.
For its oddity.

Pour sa poésie, et c'était le deuxième prix du concours, le pont des étoiles.
Para su poesía, y era el secundo premio del concurso, el puente de las estrellas.
For its poetry, and it was the second prize of the competition, the bridge of stars.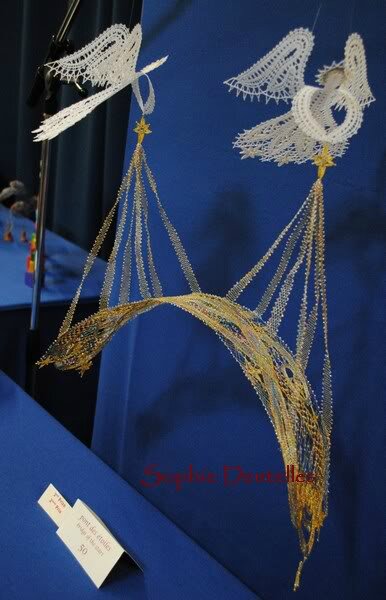 27 juillet 2012
Le Couvige de Paris a fait son logo en dentelle.
La asociación Couvige de Paris hizó su logo en encaje.
The Couvige de Paris association made its logo in lace.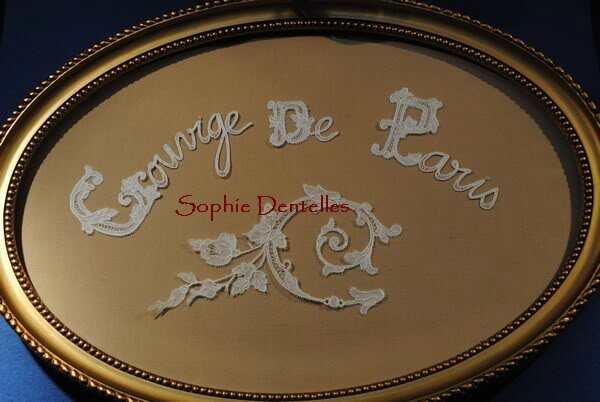 Avez-vous remarqué les points sur les "i"? Ce sont les perles à l'aiguille que je vous avais montrées. J'ai laissé une bonne longueur de fil, qui a été intégrée à la dentelle. Modèle de Mylène Salvador d'après un modèle ancien, réalisation collective.
¿Observasteis los puntos sobre las "i"? Son las perlas de aguja que os enseñé. Dejé un hilo pendiente, que ha sido integrado en el encaje. Patrón de Mylène Salvador según un patrón antiguo, realización colectiva.
Did you notice the dots above "i" letters? They are the needle beads I showed you. I left a long, which was taken into the lace. Pattern Mylène Salvador from an antique one, collective work.
J'avais pas mal de pièces exposées sur le stand de l'association:
Tenía bastantes encajes en el estand de la asociación:
I had quite a lot laces exhibited:
-1-
rond en Bayeux avec fond chant.
círculo en Bayeux con punto de París.
Bayeux circle with Paris ground.
-2-
guirlande de pâquerettes.
guirnalda de margaritas.
garland of daisies.
-3-
muguet.
muguete.
lily of the valley.
-4-
jambière aux roses, Bayeux.
canillera con rosas, encaje de Bayeux.
tight insertion with roses, Bayeux lace.
-5-
crosse églantier en Bayeux.
escaramujo, encaje de Bayeux.
dog rose bush, Bayeux lace.
-6-
jambière en Chantilly.
canillera de Chantilly.
Chantilly tight insertion.
-7-
marque-page classique, avec cordonnet intérieur.
marca página con sedón en medio punto.
bookmark with gimp in half stitch.
-8-
raie de cœur en Bayeux.
encaje de Bayeux
Bayeux lace
Pour les dentelles que je n'ai pas déjà montrées ici, je vous mettrai de meilleures photos quand je les aurai récupérées.
Os enseñaré los encajes que ya no enseñé en el blog cuando los recuperé.
I will show you the laces I did not show on my blog yet when I have them back.
A l'occasion du congrès le Couvige de Paris a aussi édité un catalogue de modèles, dessinés par Mylène, réalisés par les membres de l'association, que nous avons pu vendre sur le stand d'OIDFA.
Para el congreso, la asociaión también hizó un libro de patrones, dibujados por Mylène, realizados por los miembros, que vendimos en el estand de OIDFA.
In connection with the congress, the Couvige of Paris also published a pattern folder, designed by Mylène, made by the members, it was for sale at the OIDFA stand.
26 juillet 2012
Les clubs français étaient invités à exposer dans la salle Scriptorium de la mairie. Plusieurs régions étaient représentées (mais pas le Sud-Ouest, personne ne s'étant porté volontaire pour coordonner cette région). De part et d'autre de la salle, la décoration assurée par les dentellières de Quincy.
Las asociaciones franceses exponaban en la sala Scriptorium del ayuntamiento. Las diferentes regiones fueron representadas pero no el sudoeste, por falta de voluntario para coordinar esta región. En los dos lados de la sala, la decoración hecha por las encajeras de Quincy.
The French clubs were invited to exhibit in the city hall Scriptorium room. Several regions were represented (but not the southwest, as nobody volunteered to coordinate this region). On both sides of the room, the decoration made by Quincy lacemakers.
A l'entrée un carreau
Por la entrada, un mundillo
At the entrance, a lace pillow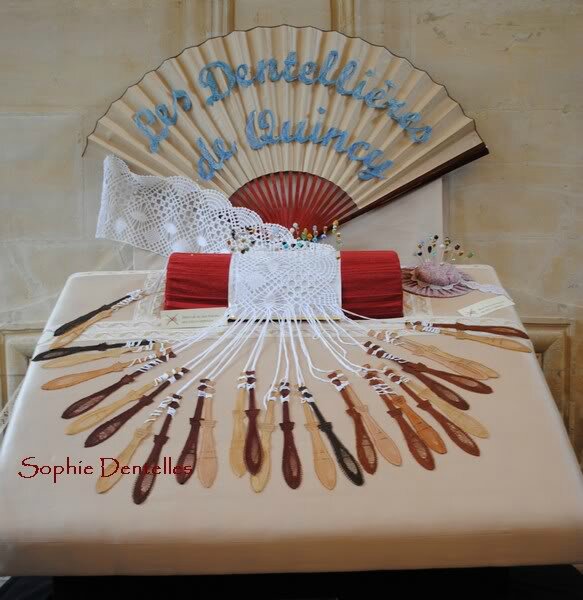 et au fond, du raisin même si nous sommes au pays des pommes.
y al otro lado uvas, aunque estamos en el país de las manzanas.
and at the opposite side grape, despite we are in an area specialised in apples.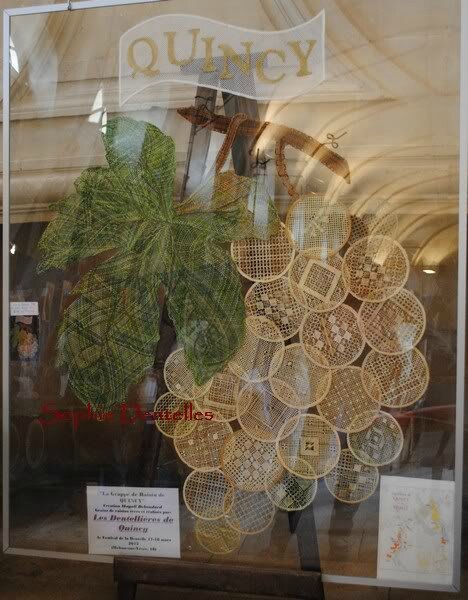 La Normandie, bien sûr.
La Normandía, claro.
Normandy, of course.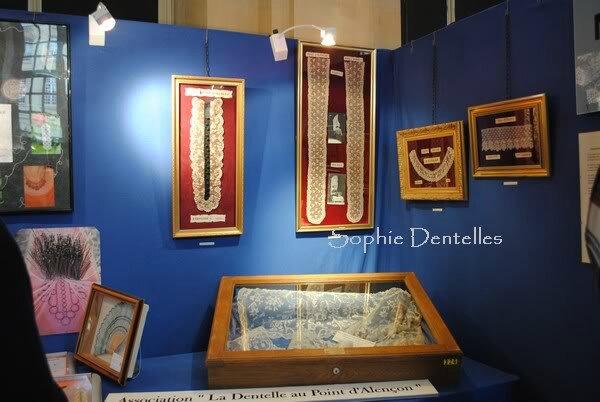 Le centre.
El centro de Francia.
France center.
Les Alpes.
Los Alpes.
The Alps.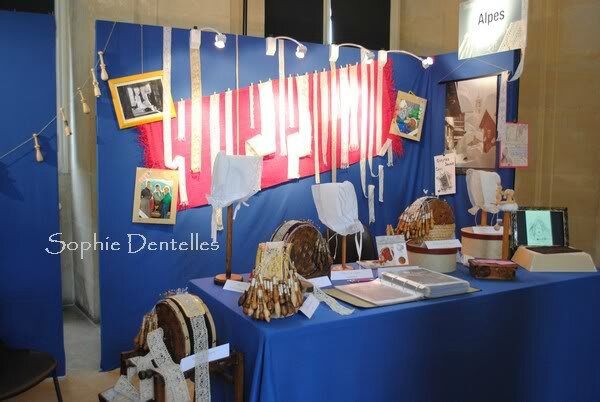 Le Nord.
El Norte.
The North.
L'Est.
El Este.
The East.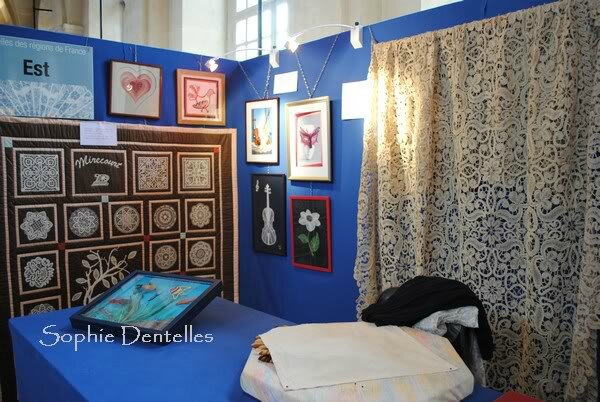 La région parisienne, avec le Couvige de Paris, association où je fais de la dentelle, j'y reviendrai.
La región de París, con la asociación Couvige de Paris donde voy para hacer encaje. Hablaré de la asociación otra vez.
Paris region, with the Couvige de Paris, where I make lace. I will talk again about it.
Et même un stand pour représenter les meilleurs ouvriers de France.
Y además un estand para los mejores obreros de Francia.
And even a stand for the best French workers.