25 décembre 2011
Joyeux Noël
Féliz Navidad
Merry Christmas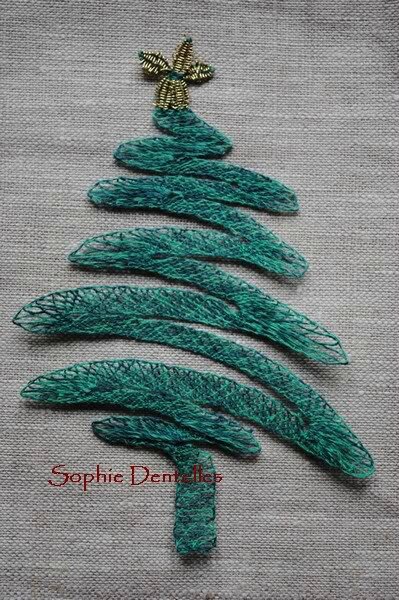 23 décembre 2011
Je l'avais repéré, je n'ai pas eu l'occasion de le feuilleter par chez moi, et voilà que je gagne ce livre de biscornus chez Aurelle. Dédicacé s'il vous plait.
Lo estaba esperando, pero no tuve la oportunidad de hojearlo en mi pueblo, y gané este libro de bordados en el blog de Aurelle. Además, dedicado.
I was expecting it, couldn't glance at it around home, and then I win this cross stitch book at Aurelle's. And signed for me.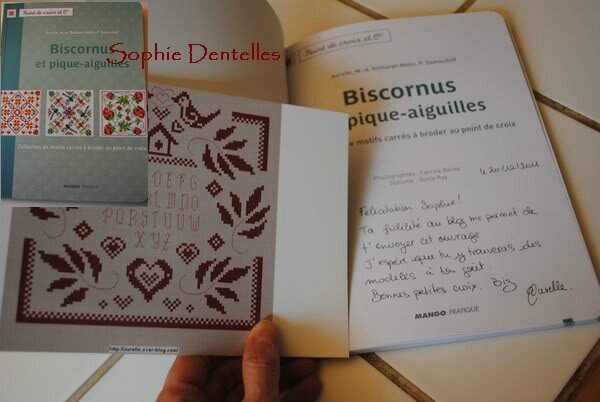 Et il me plait beaucoup.
Me gusta mucho.
I enjoy it.
21 décembre 2011
Une veste en peau lainée pour ma grande. J'aime quand elle me dit "Maman tu me fais ça?".
Una chaqueta en lana de carnero sintética para mi grande hija. Me gusta cuando me dice "¿Mamá me haces esto?".
A jacket in treated sheepskin for my eldest daughter. I love when she says me "Mom you make me that?".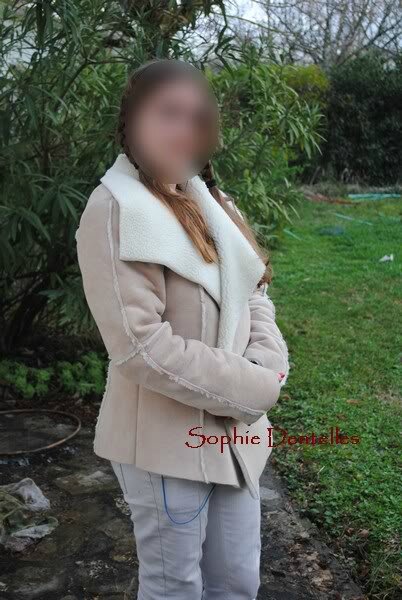 Modèle E Fait Main de novembre 2011, peau trouvée chez Mamzelle Fourmi.
Patrón E revista Fait Main de noviembre 2011, lana de carnero de Mamzelle Fourmi.
E pattern in November 2011 Fait Main magazine, sheeskin from Mamzelle Fourmi.
20 décembre 2011
Pendant toute l'exécution de l'éventail, j'ai patiemment et minutieusement gardé les chutes de fils. J'étais sûre qu'il y aurait plus de fils dans la poubelle que dans l'éventail. Mais comment savoir? Direction quelqu'un qui possède une balance de grande précision: le bijoutier.
Haciendo el abanico, puse pacientemente y minuciosamente los pedazitos de hilo en un bolso. Estaba segura que tendré más hilos en el bolso que en el abanico. ¿Pero cómo saber? Fui en una tienda que tiene un equilibrio de gran precisión: la joyería.
While working the fan, I carefully kept all bits of theads. I was sure I would have some pieces in the bean than in the fan. But how would I know? I went to a place where there is a very precise balance: the jewellery.
L'éventail pèse 8,46 grammes.
El abanico pesa 8,46 gramos.
The fan weights 0.298 oz (that does not show on the picture but that's what my converter says).
Devinette: combien pèsent les chutes?
Adivinad: ¿cuanto pesan los pedazos de hilo?
Try to guess: how much weight all bits of thread?
La plus proche gagne son initiale en dentelle de Bayeux.
El más cerca ganará su initial hecha en encaje de Bayeux.
If you have the more precise answer, you will win your initiall letter in Bayeux lace.
Edit: jusqu'au 2 janvier. Commentaires modérés.
Adicional: hasta el 2 de enero. Comentarios publicados despues.
Edit: untill January the 2nd. With validation of comments.
19 décembre 2011
Nouveau, sur le marché de Blaye: un affûteur.
Nuevo, en el mercado de Blaye: un afilador.
New, in Blaye market: a sharpening store.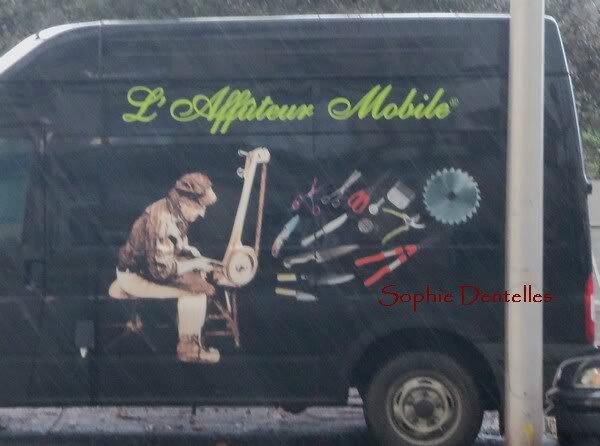 Au passage, avez-vous vu comme il fait beau chez moi?
J'ai fouillé toutes les pièces de la maison à la recherche des ciseaux qui ne coupent plus bien, pour leur donner une seconde vie.
Mira que buen tiempo tenemos aquí.
Busqué todas mis tijeras que no cortan bien, para darlas una segunda vida.
By the way, look at the nice weather we have here.
I have been looking for scissors that do not cut any more all over the house, to give them a second life.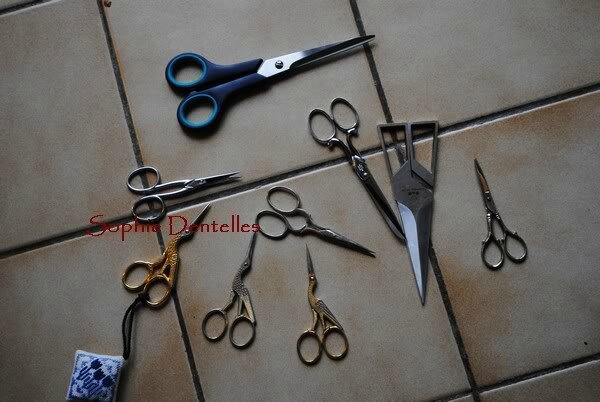 18 décembre 2011
Chaque année sur le forum de dentelle, nous avons un échange de Noël. Cette année, c'est moi qui l'ai organisé. Organisé seulement, je ne pouvais pas participer, faute de temps. Pour me remercier de la simple organisation, voilà qu'une participante m'envoie, non pas une carte, mais un swap complet!
Cada año, en el foro de encajeras, hacemos un intercambio para Navidad. Este año lo organizé yo, pero sin ser parte del intercambio, porque me faltaba tiempo. Para agredecerme de la organisación, ¡recibí un paquete como si hubiera sido parte!
Each year on the lace forum, there is a Christmas swap. This year I organized the swap, but did not take part, I missed time for that. One participant wanted to thank me for organizing, and instead of a greeting card she sent me a whole swap package!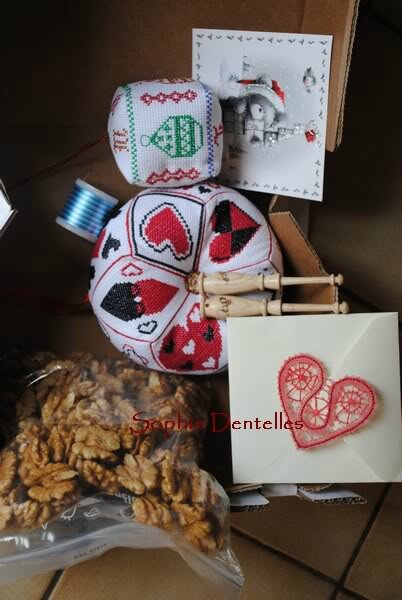 17 décembre 2011
Série de sacs à tartes, d'après le tuto d'Un Petit Bout de Fil. Très facile, j'en ferai aussi un pour moi.
Bolsos para tartas, explicaciones de Un Petit Bout de Fil. Muy fácil, coseré uno para mí.
Pie bags, tutorial from Un Petit Bout de Fil. Very easy, I will make an other one for me.
Images imprimées sur coton et appliquées machine, étiquette transfert sur ruban sergé. Remarquez que je ne m'appelle pas China.
Imagenes estampadas sobre algodón, etiqueta estampada sobre una cinta. Y no me llamo China.
Pictures printed on cotton, transfer onto a ribbon for the label. Note that my name is not China.
16 décembre 2011
Et voilà ce que le tirage au sort m'a attribué: des branchages avec des pendouilles en couture.
Y recibí esto: ramajes con decoraciones de Navidad.
And I recieved: boughs with christmas tree decorations.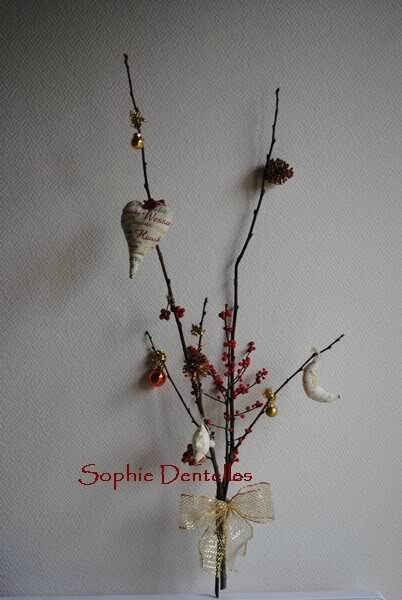 15 décembre 2011
Repas de fête aujourd'hui au club de patch, avec échange de cadeaux.
Voici ce que j'ai préparé (chez moi en secret), tiré du livre Omiyage de Kumiko Sudo.
Hoy en mi grupo de patchwork organisamos la comida de Navidad, con intercambio de regalos.
Hicé un bolsito, patrón del libro a Omiyage de Kumiko Sudo.
Today I join the Christmast lunch at my patchwork club, with exchange of presents.
This is what I made (in secret at home), pattern from Omiyage book by Kumiko Sudo.
A cette heure je peux le montrer, ici, nous sommes déjà sur place. Et ce que j'ai reçu, plus tard!
Puedo enseñarlo, ahora estamos en la sala del grupo. Y más tarde, lo que recibí.
I can show it here as we are already there. And later on what I received.
14 décembre 2011
Un jeu pour gagner des kits Marotte et Cie, il suffit de suivre le lien!