25 août 2010
Avant le congrès (et après aussi) j'ai passé quelques jours à Paris. J'en ai profité pour me promener dans les jardins du Palais Royal, où se tenait la manifestation "LINstallation", exposition en plein air autour du lin, avec:
Antes del congreso (y rambién después) pasé días en París. Aproveché de la ocasión para pasear en los jardines del Palaias Royal, donde había la muestra "LINstallation" (juego de palabras en francés), una exposición sobre el lino, con:
Before (and after) the congress I spent a few days in Paris. I managed to walk in the Palais Royal gardens, where was held a show called "LINstallation" (play with words in French), an outdoor exhibition around linen, with:
du lin de la plante sur pied
flores de lino
blooming linen plants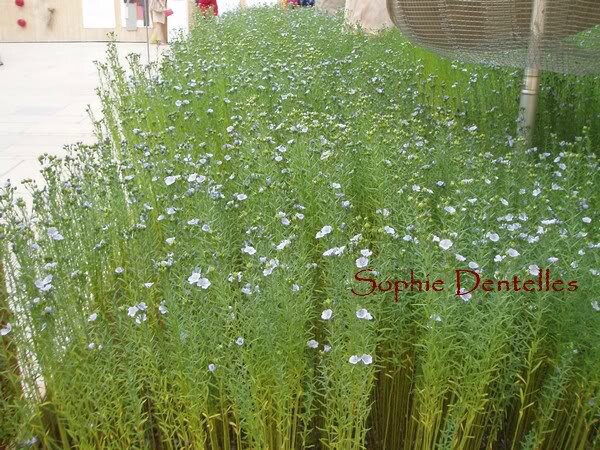 récoltée
cosechado
gathered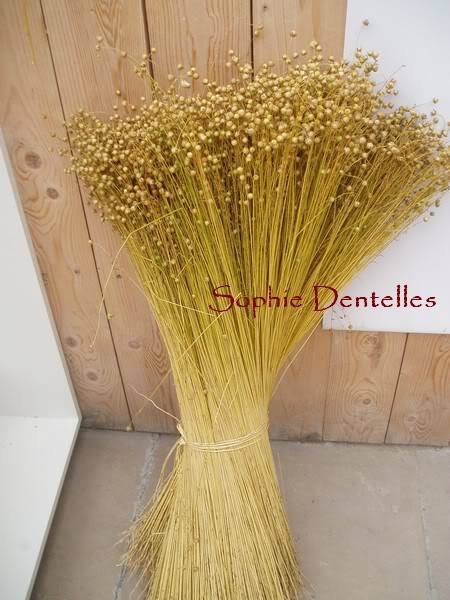 à la fibre
a la fibra
to the fibre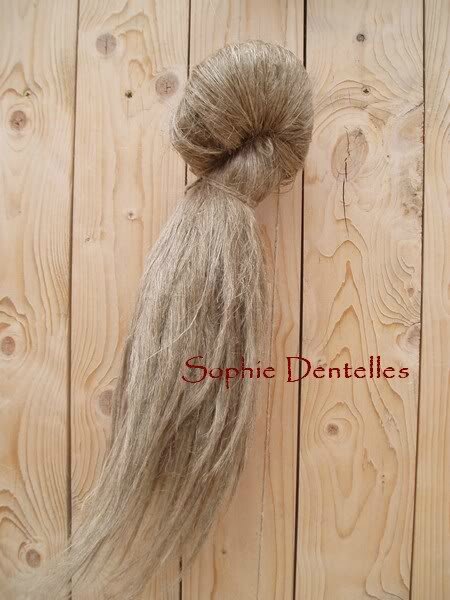 puis au fil
y al hilo
and to the thread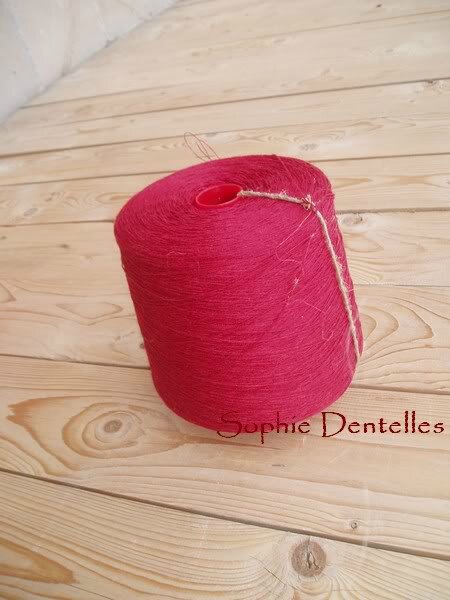 ainsi que les œuvres d'une vingtaine de créateurs et de couturiers sur le thème de l'épouvantail.
así como las obras de artistas y de modistas sobre el tema del espantapájaros.
as well as the works of about twenty creators and fashion designers related to scarecrow theme.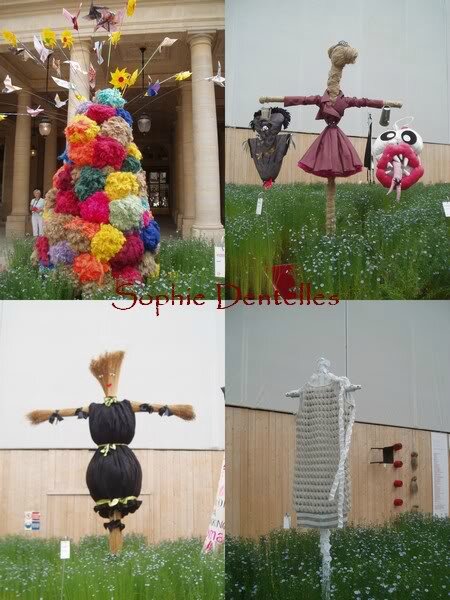 La chaise aussi est en lin.
La silla también es de lino.
Even the chair is made of linen.
Il y avait des échantillons qu'on pouvait tripoter. Je ne savais pas qu'on pouvait feutrer le lin.
Había unas muestras que se podía manosear. No sabía que se podía fieltrar el lino.
There were samples that we could finger. I did not know that linen could be felted.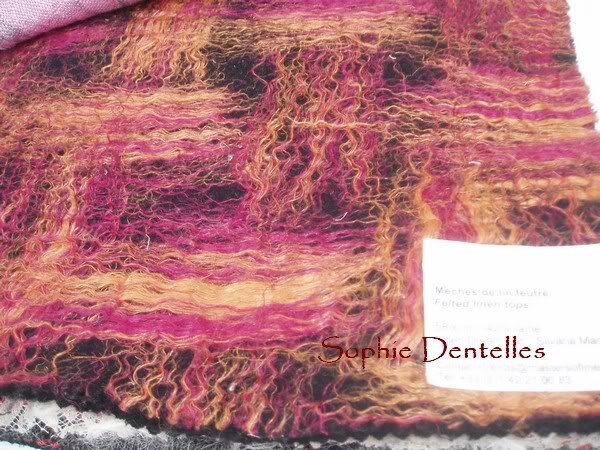 24 août 2010
Pas très académique je vous l'accorde, bon peut-être que ça le deviendra en tant que mon invention, mais j'en ai tellement marre de ce carton qui se soulève du carreau
Vale, esto no se aprende en los cursos, quisáz un día se aprenderá como mi invención, pero estoy hasta las narices de este patrón que se levanta del mundillo
Well I know it is not a standard, well maybe that will be as my invention, but I an so fed up with this pattern which lifts up itself from the pillow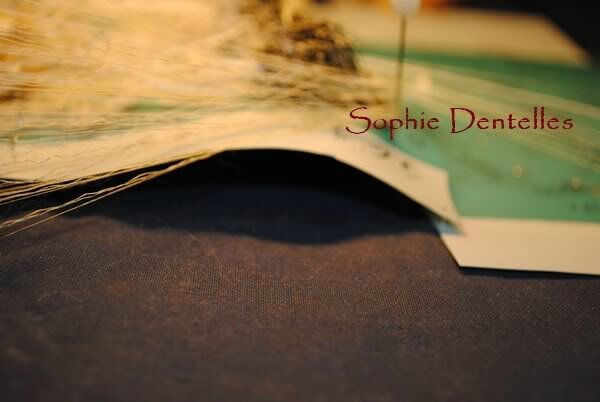 que je vais essayer de maintenir le suivant plaqué.
que voy a tratar de mantener el siguiente aplastado.
that I am going to try to maintain the following one lying flat.
23 août 2010
A l'entrée des expositions, une dame en plein travail, très concentrée.
Por la entrada de las exposiciones, una mujer trabajando, muy concentrada.
At the entrance of the exhibitions, a lady very concentrated on her work.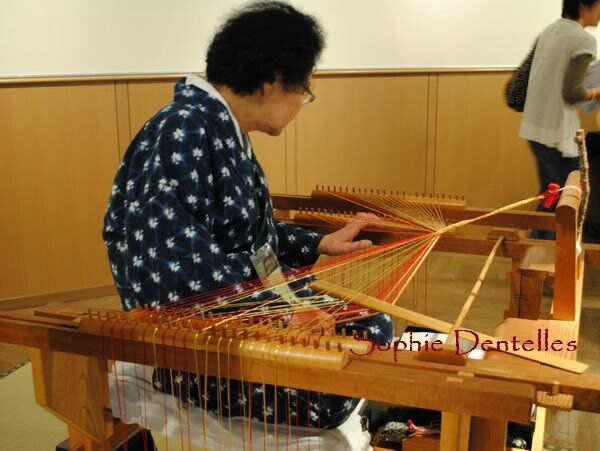 Elle 'tisse' un galon, avec de multiples fils
'Teje' un pasamano, con muchos hijos
She is 'weaving' a braid, with many threads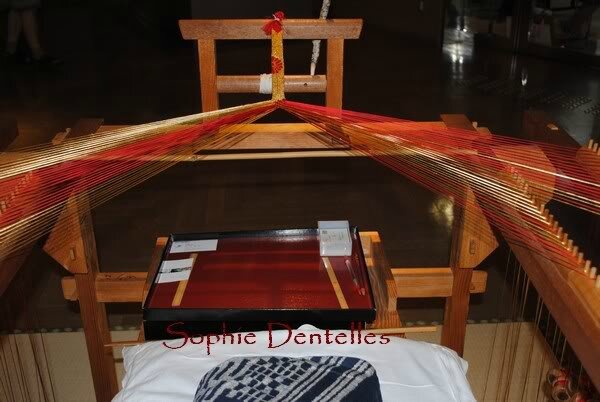 enroulés sur de multiples bobines qui pendent sur les côtés.
enrollados sobre muchas bobinas que cuelgan por los lados.
rolled up on many spools which hang on both sides.
Détail de son travail.
Detalle de su trabajo.
Detail of her work.
C'était un des cours organisés avant le congrès: le kumihimo (je me suis inscrite trop tard, le cours était complet, c'est mon grand regret). Evidemment, les élèves ne commençaient pas avec un modèle aussi compliqué: vous pouvez aller voir chez Covas, qui a suivi le cours.
Era uno de los cursos organizados antes del congreso: el kumihimo (me inscribí demasiado tarde, el curso estaba lleno, que pena). Claro, los alumnos no empezaban con un modelo tan complicado: puedes ir a ver en el blog de Covas, que siguió este curso.
It was one of workshops organized before the congress: the kumihimo (I registered too late, the course was full up, and I was so sorry). Obviously, the pupils did not begin with such a conplicated design: you can see on Covas' blog, who attended this workshop.
22 août 2010
A l'occasion de chaque congrès, il y a un concours de dentelle. Cette année le thème était le mariage. Quelques pièces qui ont capté l'attention de mon objectif, prises avant l'annonce des résultats donc sans influence aucune.
Durante cada congreso, hay un concurso de encaje. Este año el tema era el matrimonio. Algunas piezas que me gustaban, tomé las fotos antes del anuncio de los resultados pues sin influencia ninguna.
At every congress, there is a lace competition. This year the theme was the wedding. Some rentries I liked most, pictures taken before the results announcement thus without any influence.
Bouquet de mariée: Yasuko Hata, Japon
Ramo de la novia: Yasuko Hata, Japón
Bride's bouquet: Yasuko Hata, Japan
Diadèmes: Beatrice Müller, Allemagne
Diademas: Beatrice Müller, Alemania
Diadems: Beatrice Müller, Germany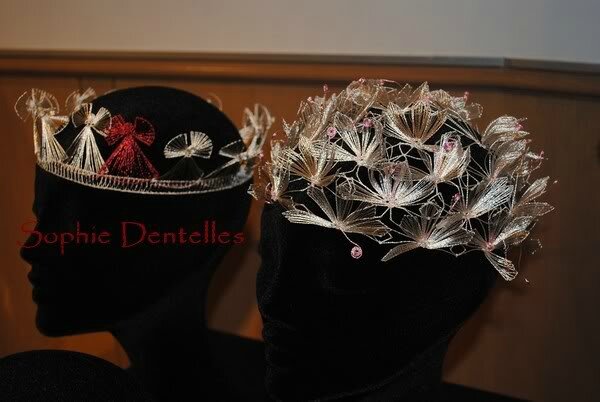 Deux bouquets, dessin de Tokomo Yokoi, Japon, réalisation collective
Dos ramos, diseño de Tokomo Yokoi, Japón, realización colectiva
Two bouquets, design Tokomo Yokoi, Japan, collective realization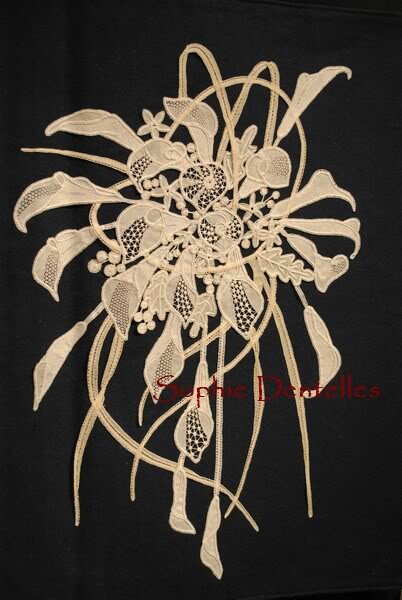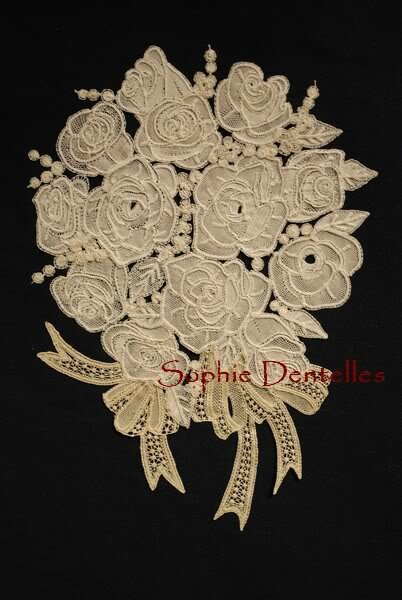 Superbe mariée, Michèle David, Belgique, notre Miche du forum des dentellières, qui a obtenu le deuxième prix du jury et le deuxième prix du public.
Hermosa novia, Michèle David, Bélgica, Miche en el foro del encaje, que obtuvo el segundo premio del jurado y el segundo premio del público.
Wonderfull bride, Michèle David, Belgium, Miche from the lacemakers' forum, who won the second jury prize and the second public prize.
21 août 2010
Un congrès étant un rassemblement important de dentellière, il intéresse forcément les commerçants. Comme d'habitude, pris d'assaut le premier jour,
Un congreso siendo una concentració importante de encajeras, interesa a los comerciantes. Como siempre, tanta gente primer día
A congress being an important lacemakers gathering, traders are interested. As usual, crowded the first day,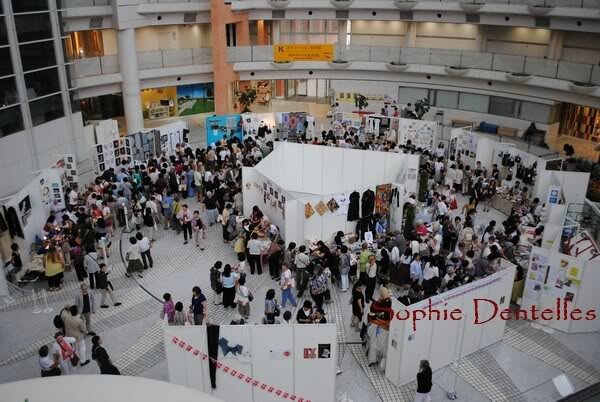 mais beaucoup plus calme le dernier.
pero mucho más tranquilo el último día.
but much more quiet the last one.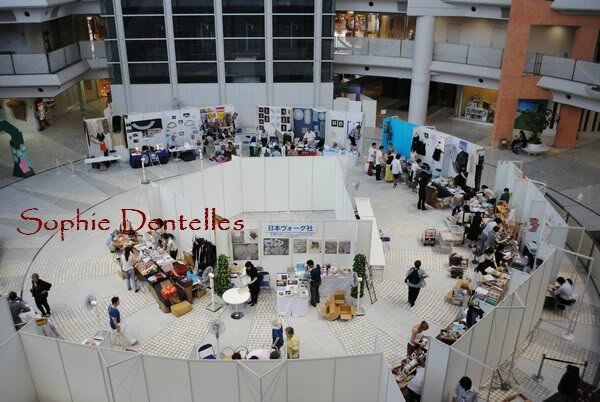 Je m'attendais à voir beaucoup plus de commerçants japonais, c'était l'occasion de les connaître. J'ai été assez déçue de ce côté-là, il n'y en avait pas beaucoup, et qui auraient mérité d'être mieux mis en valeur.
Au lieu de ça, la présence d'antiquaires en dentelle venus d'Europe, pourquoi? Il me semble que les dentellières sont plutôt avide de découvrir les derniers fils, fuseaux et outils à la mode pour faire soi-même. Bref, vous l'aurez compris, je n'ai rien acheté.
Pensaba encontrar muchos más comerciantes japoneses, era la ocasión de conocerlos. He sido frustada porque no había mucho.
Había de anticuarios de encaje venidos de Europa, ¿por qué? Me parece que las encajeras quieren descubrir a los últimos hilos, los bolillos y los herramientas de moda para hacer encaje sí mismo. Total, claro, no compré nada.
I expected to see many more Japanese traders, it was the opportunity to know them. I was disappointed enough, there were not that much, and would have deserved to be better displayed.
Instead, theere were antique lace dealers from Europe, why? I fell that the lacemakers are rather eager to discover the last threads, bobbins and the fashionable tools to make lace themselves. Well, I did not buy anything.
20 août 2010
Dans le magazine Fait Main d'août 2009, j'avais flashé sur le dos-nu J (page 24). Je n'ai jamais cousu de jersey, mais comme j'ai une surjeteuse, pourquoi pas. Justement, je trouve un coupon de jersey qui me plait (déjà trouver un motif qui me plaise a été long). Mais c'est que je n'étais pas au bout de mes peines...
Je le savais, mais alors le jersey, c'est complètement flagada, aucune tenue. Très difficile déjà à plier en deux lisière contre lisière. Difficile de couper en deux épaisseurs, celle du dessus est correcte mais celle du dessous a des bords dentelés.
Heureusement, une fois devant la machine, ça se coud assez bien.
Mais l'essayage devient une catastrophe... Bretelles beaucoup trop grande, le nœud m'arrive au nombril.
El patrón J de la revista Fait Main agosto 2009 me gustó pero sale muy mal.
Y liked the J pattern from August 2009 Fait Main magazine but it was so difficult and bad.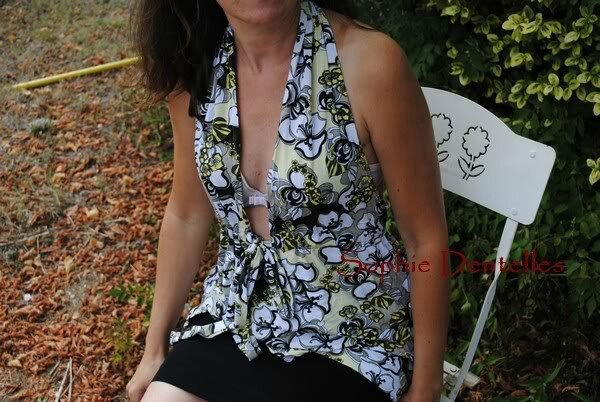 Et le dos...
J'ai pourtant bien respecté les marques pour coudre la coulisse, mais ça ne fait pas du tout comme sur le modèle, pourquoi ce surplus de tissu au-dessus qui retombe mollement et mochement? Sur la photo du magazine la coulisse semble être au bord, sur le patron elle est dessinée 4 cm plus bas.
Pas de courage pour reprendre tout ça tout de suite, un mois plus tard je m'y remets: je remonte la coulisse (tant pis pour le patron), je raccourcis les bretelles (facile, juste une couture dans le cou) et ça va mieux.
Tenía que hacer modificaciones y ahora sale mejor.
I made some changes from the pattern and it fits me better.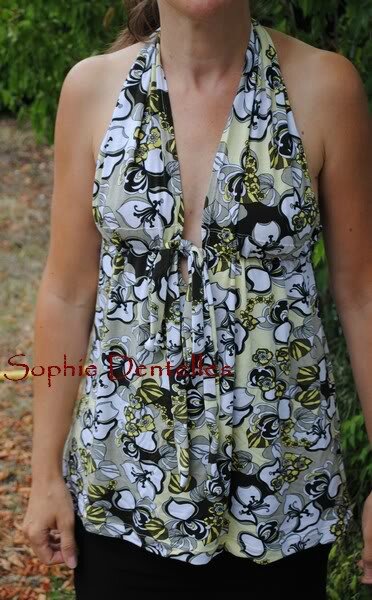 Bon, maintenant il faudrait que l'été se décide à arriver, c'est le mois d'août, il serait temps...Mais le jersey, jamais plus jamais!
Nunca voy a coser esta tela de punto otra vez.
I will never sew that kind of knitted fabric any more.
19 août 2010
Deuxième conférence, sur la passementerie. Le conférencier est issu d'une longue lignée de passementiers. Il nous raconte l'histoire de sa famille et de l'entreprise et nous présente quelques belles pièces. Puis à nous de faire! Lui et ses filles passent dans les rangs pour nous aider à faire l'un des nœuds de base, que nous allons garder en souvenir. Une conférence très vivante!
Secunda conferencia, sobre la pasamanería. El orador nos cuenta la historia de su familia y de la empresa y nos presenta algunas bellas piezas de pasamanería. ¡Y depues debemos trabajar! Él y sus hijas pasan en con nosotros para ayudarnos a hacer uno de los nudos de base, que vamos a guardar en memoria. ¡Una conferencia muy viva!
The second lecture is about braids. The lecturer tells us the history of his family and the braiding company and shows us some beautiful works. Then it is our turn! He and his daughters pass among us to help us making one of the basic knots, that we are going to keep as a souvenir. A very dynamic lecture!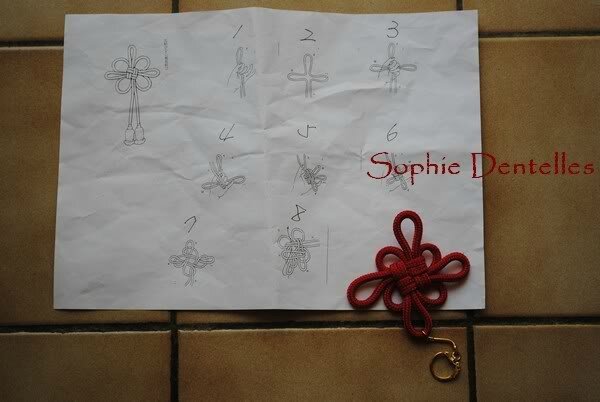 18 août 2010
Nous sommes au Japon, quoi de plus normal que de s'intéresser aux traditions japonaises. Pour cela, il y a les conférences. La première porte sur le kimono impérial. Deux charmantes dames, elles-mêmes en kimono
Estamos en Japón, entonces es normal interesarse por las tradiciones japonesas. Para eso, hay unas conferencias. La primera trata del quimono imperial. Dos mujeres, ellas mismas en quimono
As we are in Japan, let's know a bit more about the Japanese traditions. This is the purpose of the lectures. The first one is about the imperial kimono. Two charming ladies, themselves in kimono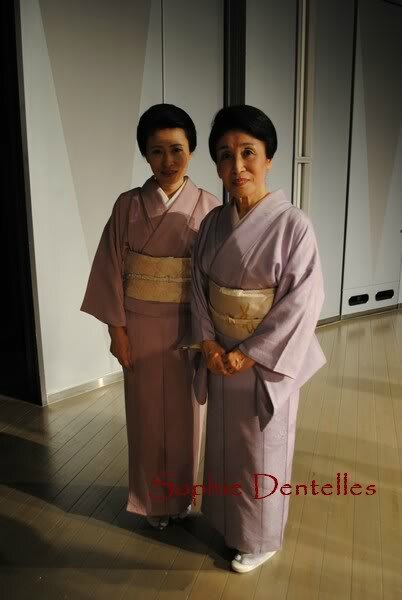 habillent la princesse, qui elle porte 12 kimonos les uns par dessus les autres. Les gestes sont sûrs, pourtant très techniques, on sent qu'ils font partie d'un protocole. La princesse ainsi vêtue est magnifique aussi bien de face
visten a la princesa, que lleva 12 quimonos unos sobre otros. Los gestos están seguros, muy técnicos sin embargo, olemos que forman parte de un protocolo. La princesa tan vestida es magnífica también bien de frente
dress the princess, who wers 12 kimonos one over the others. Gestures are sure, very technical, we feel that they are a part of a protocol. Princess so dressed is magnificent as well from front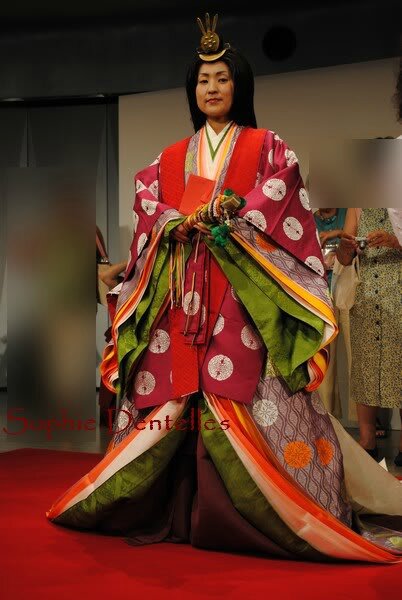 que de dos. Je ne sais plus combien tout cela pèse, j'aurais dû noter (si une autre congressiste se souvient...).
que por detrás. No sé más cuánto todo esto pesa, habría debido anotar (si otra congresista se acuerda).
then from back. I do not know remember the total weigh, I should have wrote it (if another participant at a congress remembers).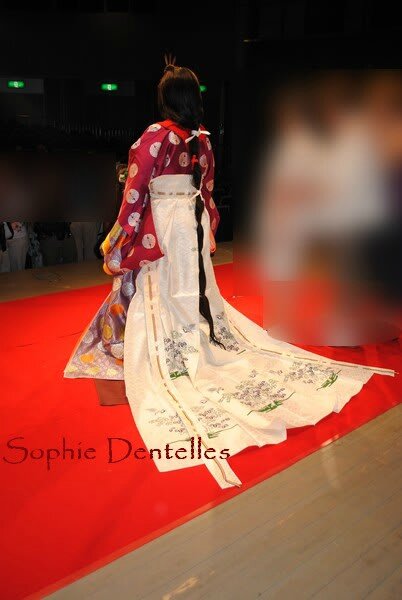 Et quand la princesse souhaite se reposer, hop, tout s'enlève d'un coup et tient debout tout seul
Y cuando la princesa desea descansarse, bueno, todo se quita junto y se tiene solo en pie
And when the princess wishes to rest, hup, everything comes out just like that and stands alone
si bien que vu de derrière la paroi en papier de riz, on a l'impression que la princesse est là.
y visto a través de la pared de papel de arroz, tenemos la impresión que la princesa está allí.
so that seen through the rice paper wall, we think that the princess is still there.
17 août 2010
Le congrès, c'est revoir des amies dentellières (qu'on ne voit que tous les deux ans hélas), et faire de nouvelles connaissances. C'est l'occasion d'échanger de petits cadeaux (porte-clef, fuseaux, broches en dentelle à l'aiguille et en bibila, pique-aiguilles), ici mélangés à ceux qui étaient dans le sac de congressiste (fil de soie, cousette de voyage).
El congreso, es encontrar amigas encajeras, y hacer nuevas amigas. Es la ocasión de cambiar pequeños regalos, aquí mezclados a los que estaban en la bolsa de congresista.
A congress is made of meeting lacemakers friends, and make new ones. It is the opportunity to exchange small presents, here mixed to those who were in the participant bag.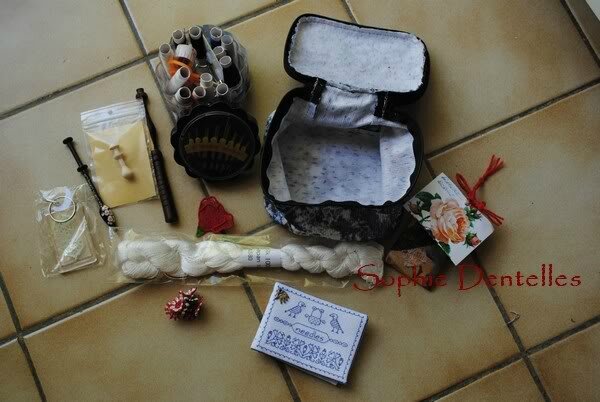 16 août 2010
Et le congrès dans tout ça? Car je vous ai montré les stands de tous les pays présents, mais c'est tout.
¿Y el congreso? Le mostré los estands de todos los países presentes, pero nada más.
And what about the congress itself? Well I showed you the national stands, and no more.
Quand on s'inscrit au congrès, on reçoit un sac (différent à chaque fois) rempli de plein de choses, selon l'initiative des organisateurs. Dans le sac il y a toujours un recueil de modèles de dentelle. Parfois un appel est fait aux membres de tous les pays, parfois seuls les membres du pays organisateur réalisent ces modèles, ce qui était le cas à Kobe.
Cuando nos inscribemos en el congreso, recibimos una bolsa (diferente cada vez) llenada de lleno de cosas, según la iniciativa de los oraganizadores. En la bolsa hay siempre una colección de patrones de encaje. A veces llaman a los miembros de todos los países, a veces sólo los miembros del país organizador realizan estos patrones, como esta vez en Kobe.
When we join the congress, we receive a bag (each time different) filled with various items, according to the initiative of the organizers. In the bag there is always a (lace) pattern folder. Those patterns may be made by members from all countries, or only the members from the organizing country, as in Kobe for instance.
Des modèles de:
Patrones de
Patterns of
Binche, Flandre, Duchesse, Rosaline, fleuri de Bruges (dentelles belges) (encajes de Bélgica) (Belgian laces)
Cluny, Valenciennes (dentelles françaises) (encajes de Francia) (French laces)
Honiton, Bedfordshire (dentelles anglaises) (encajes de Inglaterra) (English laces)
Whitof (dentelle holandaise) (encaje de Holandia) (Dutch lace)
Russe (comme son nom l'indique) de Rusia Russian tape lace
Torchon, figurative et à l'aiguille Torchon, figurativa y de aguja Torchon, representational and needle lace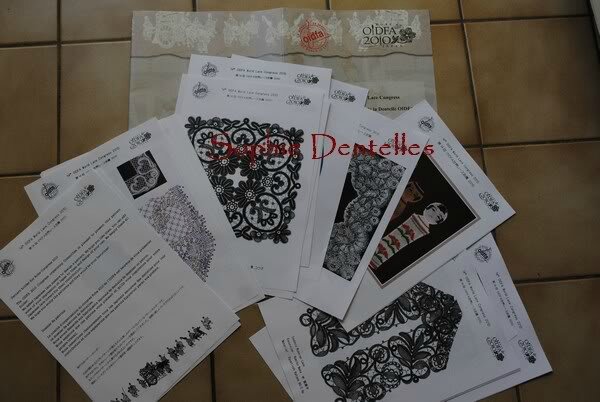 Suite à mon article de préparation sur le congrès de Kobe, j'avais reçu un mail incendiaire. Pourquoi? Parce que je disais qu'il n'y avait pas de tradition dentellière au Japon. Au vu des modèles de la pochette, dites-moi un peu, quelles sont les techniques de dentelle originaires du Japon?
Peut-être que cette remarque a été prise comme péjorative alors qu'elle est simplement factuelle. Et que je disais dans le même article que le Japon a de très riches traditions textiles, qui feront l'objet des prochains articles.