18 août 2010
Nous sommes au Japon, quoi de plus normal que de s'intéresser aux traditions japonaises. Pour cela, il y a les conférences. La première porte sur le kimono impérial. Deux charmantes dames, elles-mêmes en kimono
Estamos en Japón, entonces es normal interesarse por las tradiciones japonesas. Para eso, hay unas conferencias. La primera trata del quimono imperial. Dos mujeres, ellas mismas en quimono
As we are in Japan, let's know a bit more about the Japanese traditions. This is the purpose of the lectures. The first one is about the imperial kimono. Two charming ladies, themselves in kimono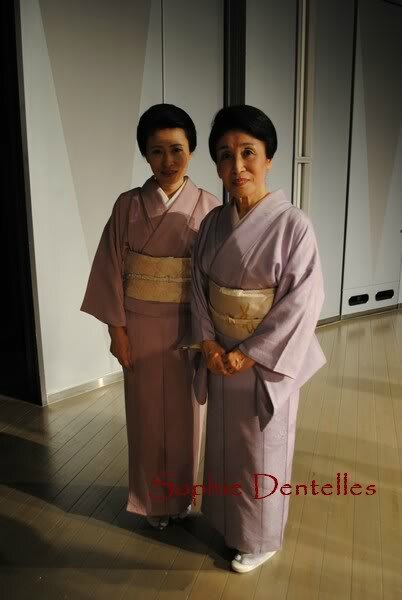 habillent la princesse, qui elle porte 12 kimonos les uns par dessus les autres. Les gestes sont sûrs, pourtant très techniques, on sent qu'ils font partie d'un protocole. La princesse ainsi vêtue est magnifique aussi bien de face
visten a la princesa, que lleva 12 quimonos unos sobre otros. Los gestos están seguros, muy técnicos sin embargo, olemos que forman parte de un protocolo. La princesa tan vestida es magnífica también bien de frente
dress the princess, who wers 12 kimonos one over the others. Gestures are sure, very technical, we feel that they are a part of a protocol. Princess so dressed is magnificent as well from front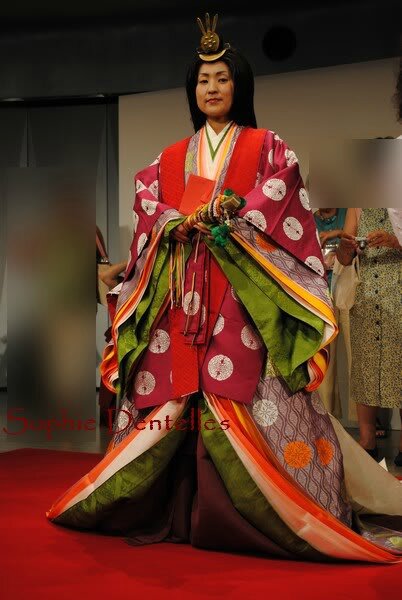 que de dos. Je ne sais plus combien tout cela pèse, j'aurais dû noter (si une autre congressiste se souvient...).
que por detrás. No sé más cuánto todo esto pesa, habría debido anotar (si otra congresista se acuerda).
then from back. I do not know remember the total weigh, I should have wrote it (if another participant at a congress remembers).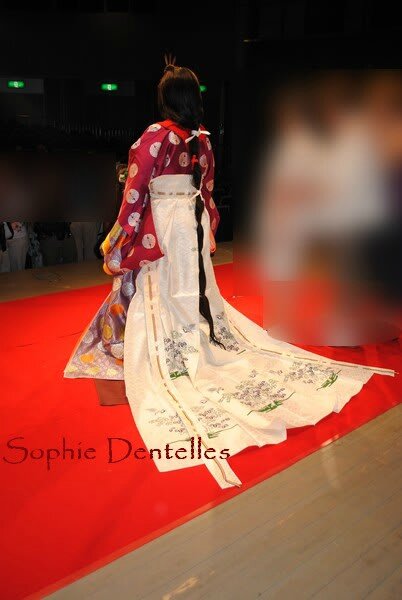 Et quand la princesse souhaite se reposer, hop, tout s'enlève d'un coup et tient debout tout seul
Y cuando la princesa desea descansarse, bueno, todo se quita junto y se tiene solo en pie
And when the princess wishes to rest, hup, everything comes out just like that and stands alone
si bien que vu de derrière la paroi en papier de riz, on a l'impression que la princesse est là.
y visto a través de la pared de papel de arroz, tenemos la impresión que la princesa está allí.
so that seen through the rice paper wall, we think that the princess is still there.
17 août 2010
Le congrès, c'est revoir des amies dentellières (qu'on ne voit que tous les deux ans hélas), et faire de nouvelles connaissances. C'est l'occasion d'échanger de petits cadeaux (porte-clef, fuseaux, broches en dentelle à l'aiguille et en bibila, pique-aiguilles), ici mélangés à ceux qui étaient dans le sac de congressiste (fil de soie, cousette de voyage).
El congreso, es encontrar amigas encajeras, y hacer nuevas amigas. Es la ocasión de cambiar pequeños regalos, aquí mezclados a los que estaban en la bolsa de congresista.
A congress is made of meeting lacemakers friends, and make new ones. It is the opportunity to exchange small presents, here mixed to those who were in the participant bag.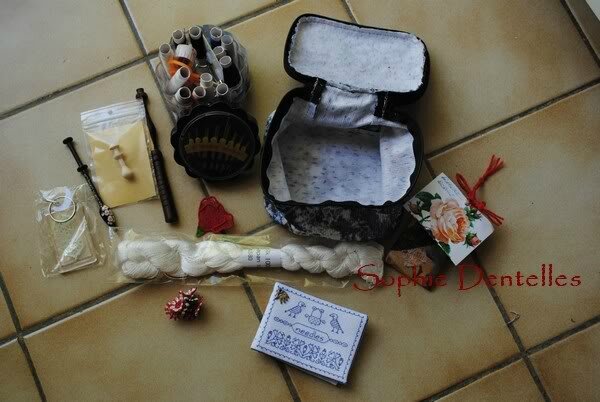 16 août 2010
Et le congrès dans tout ça? Car je vous ai montré les stands de tous les pays présents, mais c'est tout.
¿Y el congreso? Le mostré los estands de todos los países presentes, pero nada más.
And what about the congress itself? Well I showed you the national stands, and no more.
Quand on s'inscrit au congrès, on reçoit un sac (différent à chaque fois) rempli de plein de choses, selon l'initiative des organisateurs. Dans le sac il y a toujours un recueil de modèles de dentelle. Parfois un appel est fait aux membres de tous les pays, parfois seuls les membres du pays organisateur réalisent ces modèles, ce qui était le cas à Kobe.
Cuando nos inscribemos en el congreso, recibimos una bolsa (diferente cada vez) llenada de lleno de cosas, según la iniciativa de los oraganizadores. En la bolsa hay siempre una colección de patrones de encaje. A veces llaman a los miembros de todos los países, a veces sólo los miembros del país organizador realizan estos patrones, como esta vez en Kobe.
When we join the congress, we receive a bag (each time different) filled with various items, according to the initiative of the organizers. In the bag there is always a (lace) pattern folder. Those patterns may be made by members from all countries, or only the members from the organizing country, as in Kobe for instance.
Des modèles de:
Patrones de
Patterns of
Binche, Flandre, Duchesse, Rosaline, fleuri de Bruges (dentelles belges) (encajes de Bélgica) (Belgian laces)
Cluny, Valenciennes (dentelles françaises) (encajes de Francia) (French laces)
Honiton, Bedfordshire (dentelles anglaises) (encajes de Inglaterra) (English laces)
Whitof (dentelle holandaise) (encaje de Holandia) (Dutch lace)
Russe (comme son nom l'indique) de Rusia Russian tape lace
Torchon, figurative et à l'aiguille Torchon, figurativa y de aguja Torchon, representational and needle lace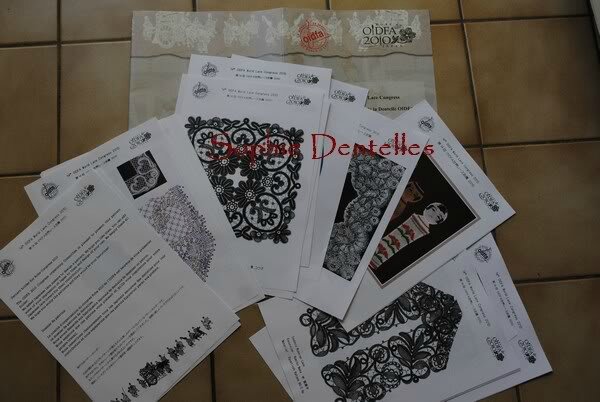 Suite à mon article de préparation sur le congrès de Kobe, j'avais reçu un mail incendiaire. Pourquoi? Parce que je disais qu'il n'y avait pas de tradition dentellière au Japon. Au vu des modèles de la pochette, dites-moi un peu, quelles sont les techniques de dentelle originaires du Japon?
Peut-être que cette remarque a été prise comme péjorative alors qu'elle est simplement factuelle. Et que je disais dans le même article que le Japon a de très riches traditions textiles, qui feront l'objet des prochains articles.
14 août 2010
Vous l'avez vu hier chez Anaïs, il n'y avait pas qu'un pantacourt dans son paquet. Il y avait aussi une paire de chaussettes tricotées, ça faisait plusieurs mois que j'avais envie d'essayer, c'était l'occasion. Laine spéciale chaussettes et explications nébuleuses Katia, heureusement qu'il y avait des explications plus claires de tricoteuses confirmées du forum du filage pour m'éclairer.
Lo visteis ayer en el blog de Anaïs, no había solamente un pantalón pirata dentro de su paquete. Había también un par de calcetines de punto, hacía ya unos meses que tenía ganas de probar, era la ocasión. Lana especial calcetines y explicaciones difícil Katia, afortunadamente había unas explicaciones más claras en el foro del hilado para ayudarme.
You saw it on Anaïs' blog yesterday, there was not only a capri pants in her package. There was also a pair of knited socks, I have been willing to try for several months, and that was the opportunity. Woll for socks and misty explanations Katia, fortunately there were clearer explanations from skilled knitting members from the spinning forum that helped me.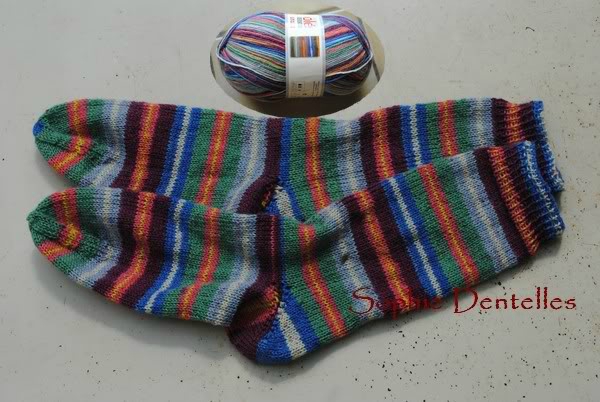 13 août 2010
Je suis un peu folle, mais vous le saviez déjà.
Soy un poco loca, pero ya lo sabéis.
I am a little bit crazy, as you already know.
Mais folle au point de me lancer dans une aventure d'un an, le saviez-vous?
Pero loca hasta meterme en una aventura de un año, ¿lo sabías?
But crazy enough to get in a one year adventure, did you know?
J'ai à peine hésité à l'appel d'Anaïs pour un swap de non-anniversaire, et oui, l'univers enchanté d'Alice est attractif. Effet du hasard, Anaïs est justement la première à jouer le rôle d'Alice ce mois-ci, et je lui ai cousu un pantacourt en lin blanc (pantacourt C Fait Main mars 2010). C'est la première fois que je couds à l'aveugle, sans essayage, c'était un peu le stress...
No vacilé mucho cuado Anaïs llamó para un intercambio de no aniversario, pues, es que el mundo encantado de Alice es atractivo. Anaïs es la primera Alice este mes, y le cosí un pantalón pirata de lino blanco (pantron C Fait Main marzo de 2010). Es la primera vez que coso así, sin prueba, era un poco el estrés...
I hardly hesitated to participate to Anaïs' non-birthday swap, worht to say, Alice's wonderfull world is attractive. By chance, Anaïs is the first Alice this month, and I sewed her a white linen capri pants (capri pants C Fait main March, 2010). It is the first time that I sew without fitting, it was a little bit stressful...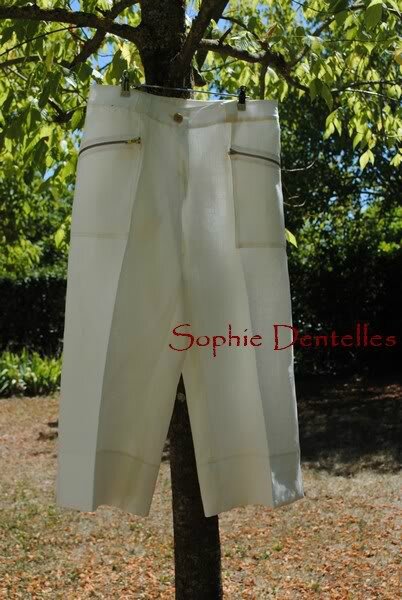 09 août 2010
Presque 6 kg de prunes
Casi 6 kg de ciruelas
Almost 13 Lbs of plums
sont devenus confiture allégée en sucre.
se volvieron mermelada baja en azúcar.
became sugar light jam.
Verdict: trop liquide, mais bonne quand même.
Sentencia: demasiado líquida, pero buena.
Verdict: too liquid, but good anyway.
08 août 2010
Suisse
Suiza
Switzerland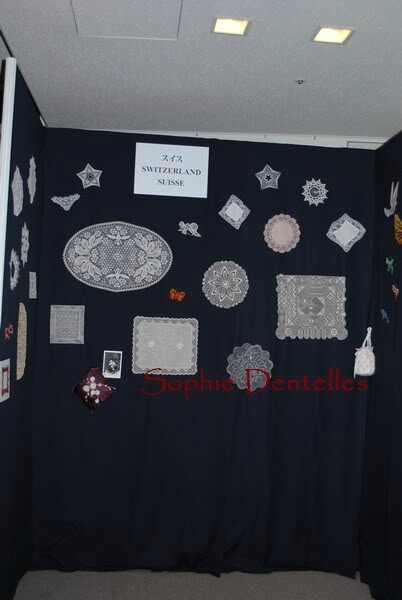 Avec encore une fantaisie qui m'a plu, du torchon cette fois.
Otra fantasia que me gustó, encaje de torchon.
Another fancy lace I enjoyed, this time it is torchon.
Et nous avons enfin fini le tour des stands.
Por fin acabamos la visita de los estandes.
We finally finished visiting the stand exhibition.
07 août 2010
Suède
Suecia
Sweden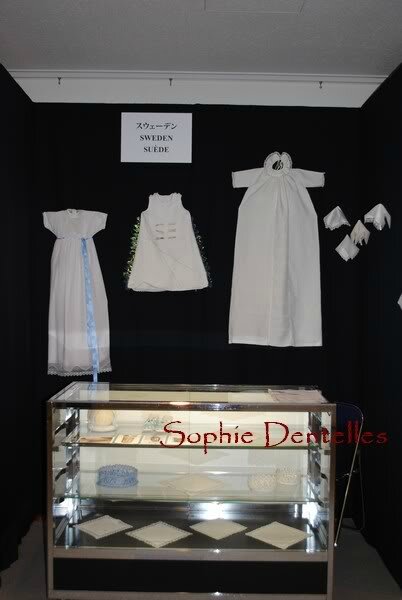 06 août 2010
Slovénie
Eslovenia
Slovenia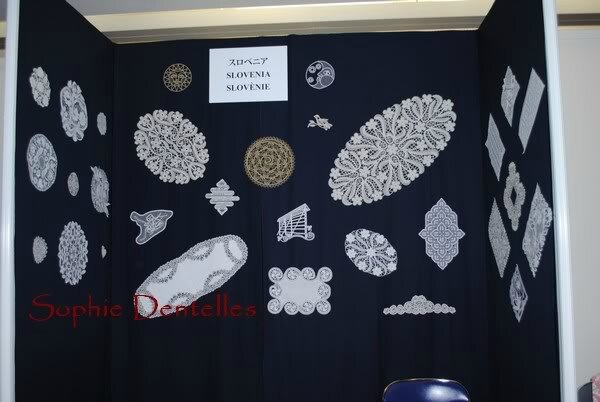 Beaucoup de fantaisie dans ce lacet, un style que j'aimerais bien savoir faire (OK, on ne peut pas tout faire).
Mucha fantasia en este encaje, una técnica que me gustaría saber (vale, no puedo hacer todo).
Very fancy this tape lace, I'd like to know how to make it (well, I cannot do everything).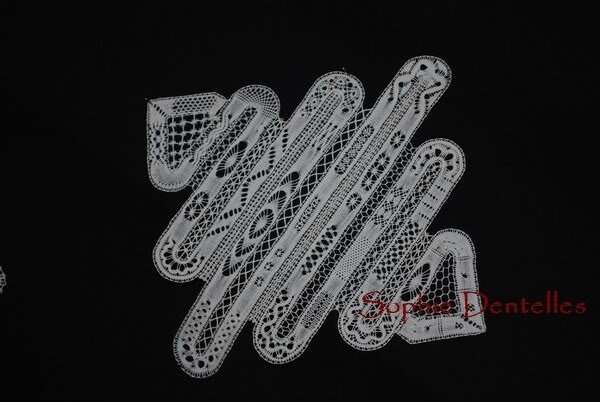 05 août 2010
Royaume Uni: les dentellières ont réalisé une forme de kimono, bien mis en valeur sur un carton plié.
El Reino Unido: las encajeras realizaron una forma de kimono, bien valorizado sobre un cartón plegado.
United Kingdom: the lacemakers made a kimono shape, emphasized well on a folded cardboard.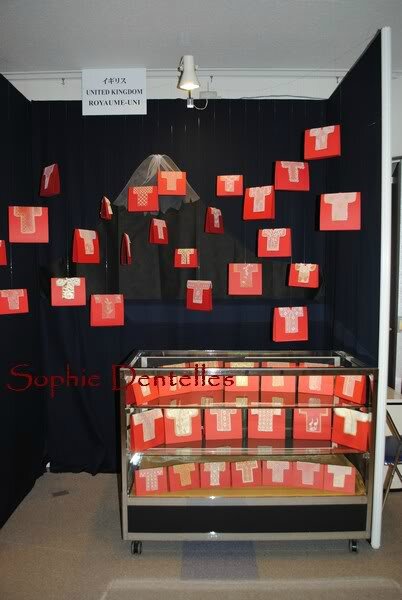 Je ne vais pas tous les mettre
No enseñaré todos
I am not showing all of them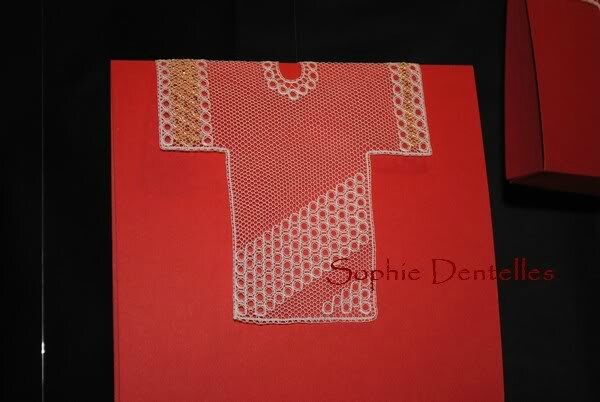 en plus pas facile de photographier ceux qui tournent
además no era fácil tomar fotos cuando estaban moviendo
it wasn't easy to take pictures as they were moving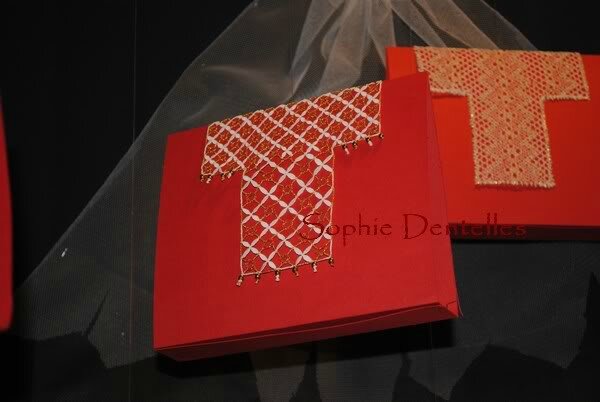 mais beaucoup étaient magnifiques.
pero eran casi todos hermosos.
but many of them were wonderfull.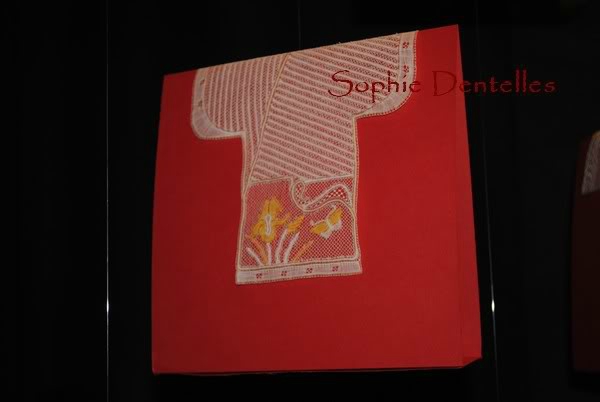 Serez-vous étonnées si je vous dis que le Royaume Uni a remporté le prix du plus joli stand?
¿Si te digo que el Reino Unido ha ganado el premio del mejor estand, te sorpriendo?
Would you be surprised if I tell you that they won the best stand prize?