14 août 2010
Vous l'avez vu hier chez Anaïs, il n'y avait pas qu'un pantacourt dans son paquet. Il y avait aussi une paire de chaussettes tricotées, ça faisait plusieurs mois que j'avais envie d'essayer, c'était l'occasion. Laine spéciale chaussettes et explications nébuleuses Katia, heureusement qu'il y avait des explications plus claires de tricoteuses confirmées du forum du filage pour m'éclairer.
Lo visteis ayer en el blog de Anaïs, no había solamente un pantalón pirata dentro de su paquete. Había también un par de calcetines de punto, hacía ya unos meses que tenía ganas de probar, era la ocasión. Lana especial calcetines y explicaciones difícil Katia, afortunadamente había unas explicaciones más claras en el foro del hilado para ayudarme.
You saw it on Anaïs' blog yesterday, there was not only a capri pants in her package. There was also a pair of knited socks, I have been willing to try for several months, and that was the opportunity. Woll for socks and misty explanations Katia, fortunately there were clearer explanations from skilled knitting members from the spinning forum that helped me.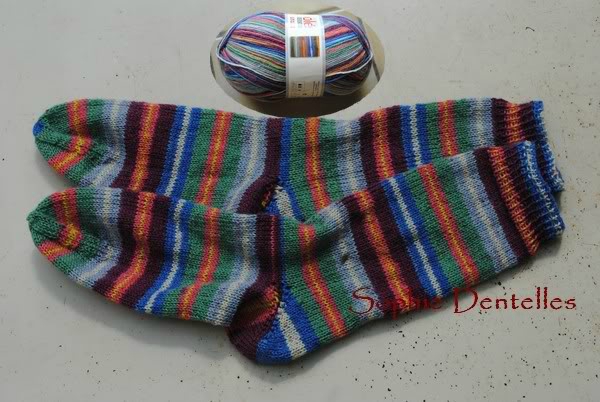 13 août 2010
Je suis un peu folle, mais vous le saviez déjà.
Soy un poco loca, pero ya lo sabéis.
I am a little bit crazy, as you already know.
Mais folle au point de me lancer dans une aventure d'un an, le saviez-vous?
Pero loca hasta meterme en una aventura de un año, ¿lo sabías?
But crazy enough to get in a one year adventure, did you know?
J'ai à peine hésité à l'appel d'Anaïs pour un swap de non-anniversaire, et oui, l'univers enchanté d'Alice est attractif. Effet du hasard, Anaïs est justement la première à jouer le rôle d'Alice ce mois-ci, et je lui ai cousu un pantacourt en lin blanc (pantacourt C Fait Main mars 2010). C'est la première fois que je couds à l'aveugle, sans essayage, c'était un peu le stress...
No vacilé mucho cuado Anaïs llamó para un intercambio de no aniversario, pues, es que el mundo encantado de Alice es atractivo. Anaïs es la primera Alice este mes, y le cosí un pantalón pirata de lino blanco (pantron C Fait Main marzo de 2010). Es la primera vez que coso así, sin prueba, era un poco el estrés...
I hardly hesitated to participate to Anaïs' non-birthday swap, worht to say, Alice's wonderfull world is attractive. By chance, Anaïs is the first Alice this month, and I sewed her a white linen capri pants (capri pants C Fait main March, 2010). It is the first time that I sew without fitting, it was a little bit stressful...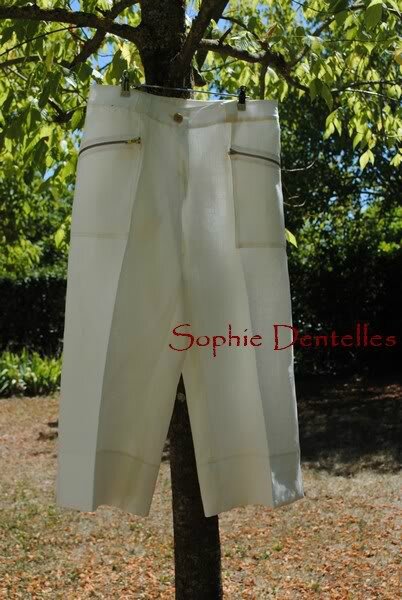 09 août 2010
Presque 6 kg de prunes
Casi 6 kg de ciruelas
Almost 13 Lbs of plums
sont devenus confiture allégée en sucre.
se volvieron mermelada baja en azúcar.
became sugar light jam.
Verdict: trop liquide, mais bonne quand même.
Sentencia: demasiado líquida, pero buena.
Verdict: too liquid, but good anyway.
08 août 2010
Suisse
Suiza
Switzerland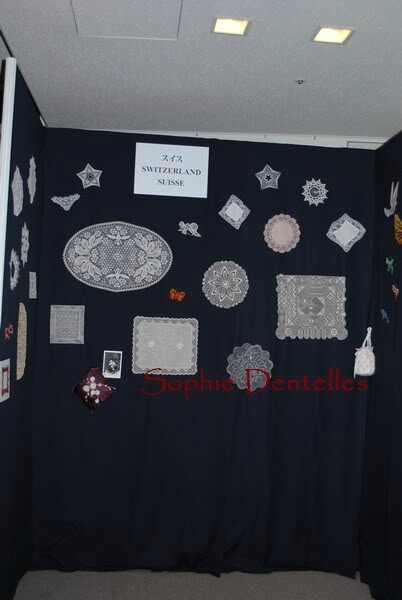 Avec encore une fantaisie qui m'a plu, du torchon cette fois.
Otra fantasia que me gustó, encaje de torchon.
Another fancy lace I enjoyed, this time it is torchon.
Et nous avons enfin fini le tour des stands.
Por fin acabamos la visita de los estandes.
We finally finished visiting the stand exhibition.
07 août 2010
Suède
Suecia
Sweden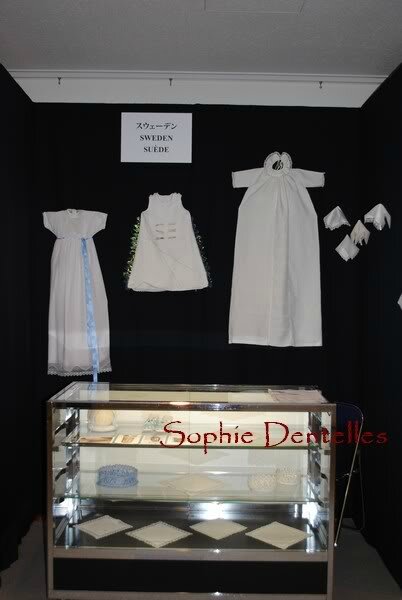 06 août 2010
Slovénie
Eslovenia
Slovenia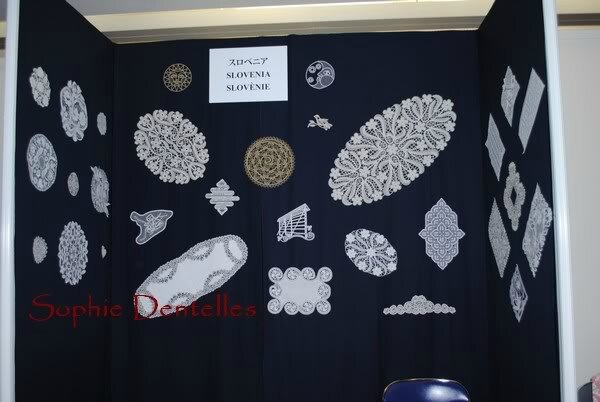 Beaucoup de fantaisie dans ce lacet, un style que j'aimerais bien savoir faire (OK, on ne peut pas tout faire).
Mucha fantasia en este encaje, una técnica que me gustaría saber (vale, no puedo hacer todo).
Very fancy this tape lace, I'd like to know how to make it (well, I cannot do everything).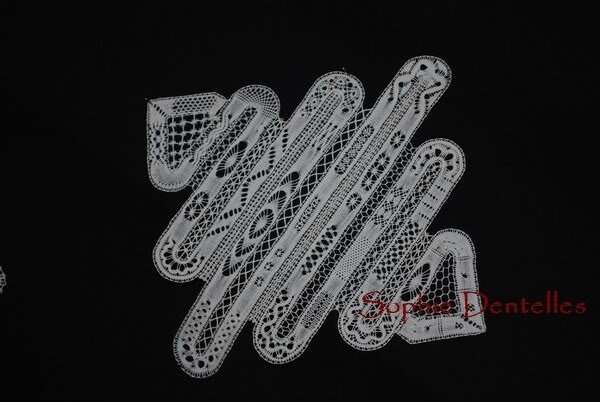 05 août 2010
Royaume Uni: les dentellières ont réalisé une forme de kimono, bien mis en valeur sur un carton plié.
El Reino Unido: las encajeras realizaron una forma de kimono, bien valorizado sobre un cartón plegado.
United Kingdom: the lacemakers made a kimono shape, emphasized well on a folded cardboard.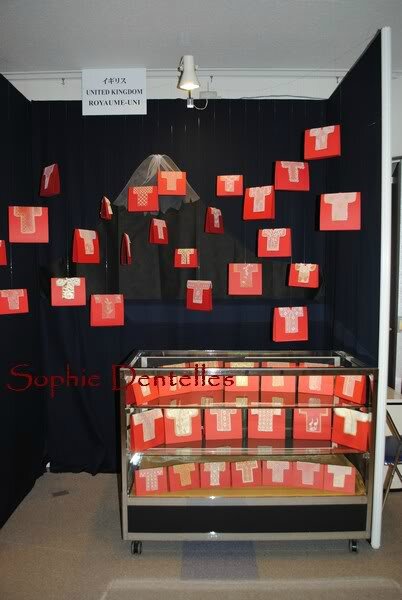 Je ne vais pas tous les mettre
No enseñaré todos
I am not showing all of them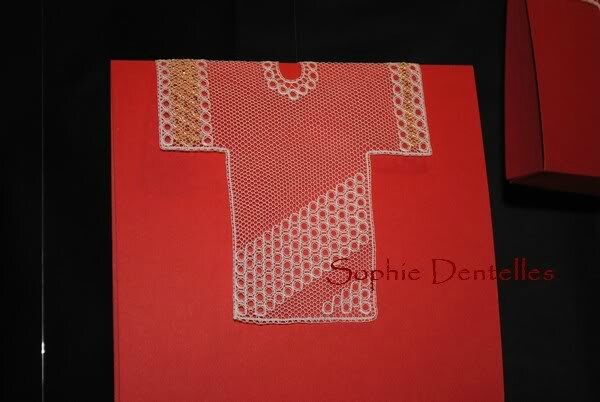 en plus pas facile de photographier ceux qui tournent
además no era fácil tomar fotos cuando estaban moviendo
it wasn't easy to take pictures as they were moving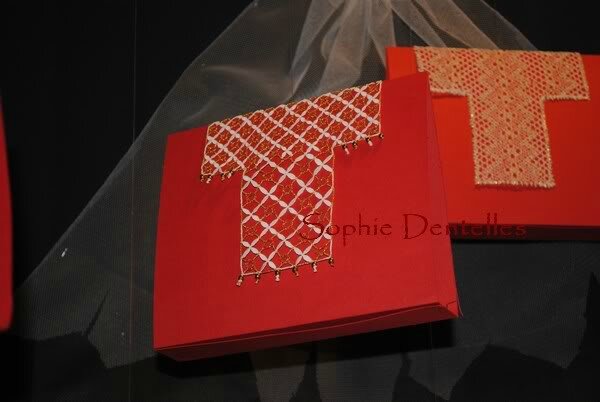 mais beaucoup étaient magnifiques.
pero eran casi todos hermosos.
but many of them were wonderfull.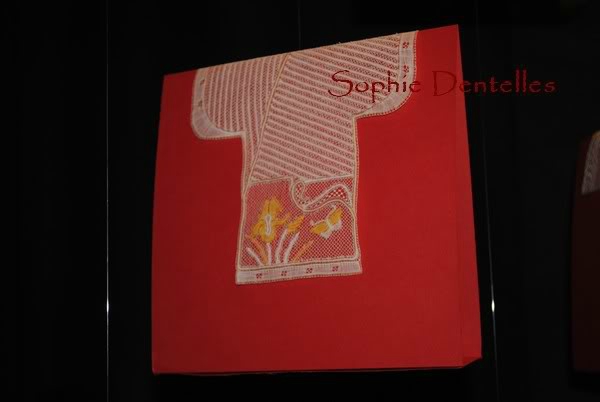 Serez-vous étonnées si je vous dis que le Royaume Uni a remporté le prix du plus joli stand?
¿Si te digo que el Reino Unido ha ganado el premio del mejor estand, te sorpriendo?
Would you be surprised if I tell you that they won the best stand prize?
04 août 2010
République Tchèque
La república checa
Czech Republic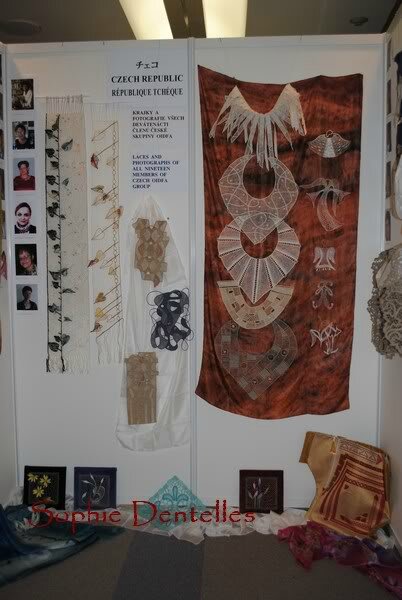 03 août 2010
Malte
Malta
Malta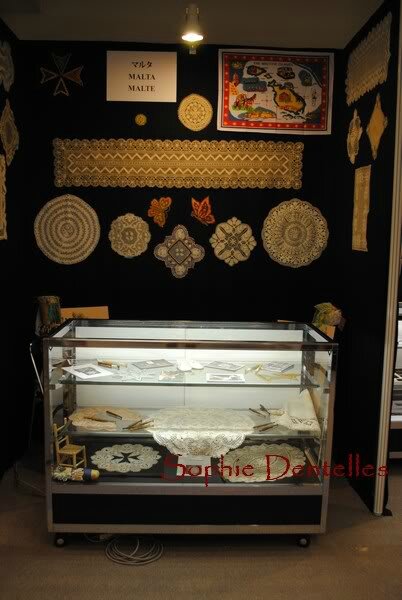 02 août 2010
En plus de toutes les expositions préparées un peu partout -je les ai toutes ratées, je me suis vraiment mal débrouillée- le Japon avait aussi un stand.
Además de todas las exposiciones preparadas por todas partes - cuyas no vi, me defendí verdaderamente mal- Japón tenía también un estand.
Besides all the exhibitions set up almost everywhere - I missed them all, I really badly managed- Japan also had a stand.
Et qui mieux que le Japon peut montrer des dragons?
¿Y quién mejor que Japón puede enseñar dragones?
And who better than Japan can show dragons?